Bixby, OK Pest Control
Protecting Bixby Homes & Businesses Since 1989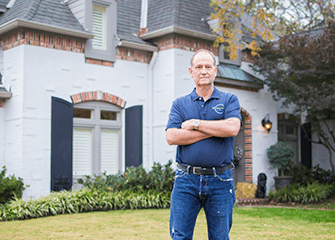 Bixby considers itself to be the "best city" in Oklahoma, and there's certainly an argument to be made for Bixby deserving the distinction. This exceptional Oklahoma city is full of friendly people, history, and heritage, and offers its residents excellent opportunities for growth. To help Bixby maintain their claim to the "best city" in Oklahoma the experts at Montgomery Exterminating offer the pest control services needed to keep Bixby homes and businesses free of property-damaging, disease-introducing, annoying pests. Montgomery Exterminating has the modern tools and innovative know-how to solve any pest problem. Contact us today to begin protecting your Bixby residential or commercial property from common Oklahoma pests!
Residential Pest Control in Bixby, OK
Putting into place a residential pest control program from Montgomery Exterminating will provide you with the following benefits:
Monthly service visits which provide exterior service visits every month and interior service upon request
Cobweb removal
Coverage for more than 20 pests
Guaranteed protection
At Montgomery Exterminating we offer three different residential pest control plans to choose from. Our most inclusive plan is our Home Gold plan and in addition to the above benefits, it also offers our customer with termite control, seasonal mosquito reduction, seasonal outdoor flea and tick control, and more! Give us a call to learn more about our Home Gold plan or our other two highly effective residential pest control plans!
Rodent Prevention Tips for Bixby, OK Residents
To keep the rodents that live in Bixby out of your home and away from your family and pets, partner with the Oklahoma rodent control experts at Montgomery Exterminating. We can provide monthly stand-alone rodent control services or as part of our year-round residential pest control plans; to protect your home from both rodents and insects. To begin protecting your property from rodents our professionals will come to your home or business and complete a thorough inspection of your property to determine if in fact, rodents are present, and if so where they are entering. Our professionals will then tailor services that are specific to your property to ensure that any rodents currently living in your home are completely eliminated. In addition to our professional services, making the following changes around your home can help to keep rodents out of it.
Inspect the exterior walls and foundation of your home, sealing any small cracks and gaps found

Make sure that any spaces found around windows are caulked and that exterior doors have weather stripping installed on them

Place tight-fitting caps on all chimneys and place covers over all vents entering your home

Place trash in outdoor trash cans that have tight-fitting lids and that are stored a distance away from the outside of your house

Construct garden areas and compost areas a distance away from the outside of your home and quickly remove any fruits or vegetables that have fallen to the ground

Trim overgrown trees and bushes back away from the exterior of your home
Commercial Pest Control Services in Bixby, OK
At Montgomery Exterminating we have experience protecting a wide variety of Oklahoma businesses and industries from pests, pests that if found inside a business can quickly destroy its reputation; examples include:
Shopping centers

Restaurants

Country clubs

Office buildings

Schools

Warehouses

Medical facilities
Montgomery Exterminating offers customized commercial pest solutions to control pests to give Oklahoma business owners peace of mind knowing that any pest problems will be quickly resolved and that they won't be able to return. Our professionals are dedicated to solving your facility's pest problems while surpassing your specific industry's regulations. Leave your Bixby business' pest control needs up to our experts; contact us today to learn more or to schedule a no-obligation, free inspection.
Protect Your Bixby, OK Property from Termites
The ugly truth when it comes to termites is that these wood-eating, structure-damaging pests are found living, breeding, and feeding across the entire state of Oklahoma. Only adding to the misery that they can inflict is the fact that they usually remain unnoticed until the damages they have already caused are noticed. At Montgomery Exterminating we feel that the best way to protect your Bixby property from termites or to solve a current termite problem is to install the Sentricon® System with Always Active™. Controlling termites on your property can be completed as a stand-alone service or it can be bundled with one of our year-round home pests control plans. By using the eco-friendly Sentricon® with Always Active™, no chemicals are injected into the ground, instead just a few grams of bait are placed into the bait stations which are discreetly placed around your property. After Sentricon® with Always Active ™ is installed, it begins to work immediately, quickly and completely getting rid of the entire termite colony that is located in your home or on your property; it then offers continuous, year-round protection against future termite infestations. Contact us today to learn more!
Schedule Your Free Estimate
Complete the form below to schedule your no obligation inspection
Montgomery Exterminating Blog
Read the latest blog posts for more information about pests in Oklahoma.