Don't Let Cockroaches Ruin Your Christmas Dinner in Tulsa
December 16, 2019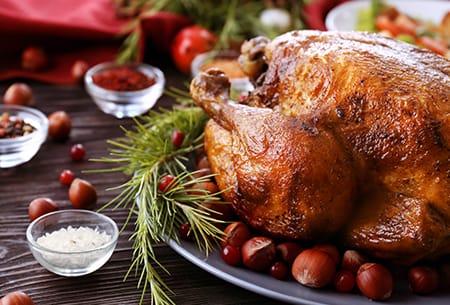 What are some of the staples of a good Christmas dinner? Perhaps a large turkey or a honey-smoked ham? Maybe you have fruitcake or figgy pudding. Maybe twinkling lights are a necessity or perhaps bright pine-scented candles. One thing you probably don't want to see at a Christmas dinner is a fat brown cockroach scurrying across the table! Cockroaches are hardy pests that can quickly ruin even the best moments. Before these awful insects take a seat at your Christmas party, we've compiled a list of tricks to keep them away.
Cockroach Christmas
Christmas is a winter holiday. Doesn't this mean Tulsa should be bug-free? Unfortunately, many insects survive through the winter cold by hiding out inside homes. Cockroaches fall into this category. These pests love living in houses where they are protected from the cold.

Christmas can be prime time for these unwanted visitors. The busy holiday season often includes more messes than usual and less time for cleaning. Food may be left sitting out on counters. (Cookies for Santa, anyone?) And extra food will attract cockroaches.

Another reason the holidays can lead to cockroach appearances is that it's easy for them to get inside. You would think that they'd be stuck outside this time of year when doors and windows are kept tightly shut. But cockroaches can come inside on packages and boxes. As you're bringing in the gifts you ordered, you may also be bringing in a roach or two. The same applies to bring Christmas decorations out of storage and back into the home.
Keeping Cockroaches Away
Never bring a box or bag in from outside without first checking it for cockroaches and other insects. If you have decorations stored in a shed or other less-protected area, it might be a good idea to take everything out of the boxes outside before bringing them inside.

Another way to reduce the attraction for cockroaches is to control the humidity levels in your home. Cockroaches love moisture, so make sure you don't have any leaks or excess moisture in the house. Finally, keep them away by keeping them from food. Even though the holidays can feel chaotic, it's important to make an effort to clean up messes promptly and properly to store food in heavy plastic or glass containers in order to avoid giving roaches a feast.
The Trick to a Cockroach-Free Holiday
These prevention tips are an important first step in keeping cockroaches out of your home this Christmas season. Another important step is to be vigilant. If you see even one cockroach scurrying around your home this month, it is likely that that are more just out of sight--perhaps many more. Instead of trying to wait out an infestation or take care of the problem on your own, let Montgomery Exterminating get rid of cockroaches for you.

A do-it-yourself approach to cockroach infestations is often ineffective, and it can take weeks to truly make a difference. Montgomery Exterminating takes a quick approach. We know that you need your house up and running, without any pests trying to crash the party. We'll find a treatment plan that works for your schedule, and in no time your house will be cockroach-free and ready for Christmas. Reach out to us today for prompt assistance.