Don't Let Mosquitoes Make Outdoor Events Into A Nightmare
July 25, 2018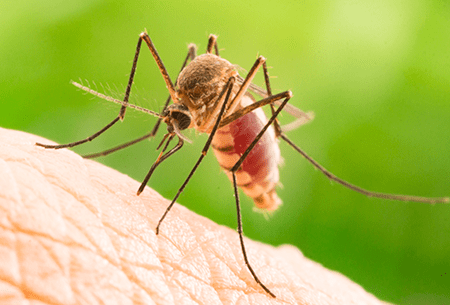 Have you ever been to an outdoor event in the summer, such as a wedding or a birthday party, and left completely covered in mosquito bites? Were you constantly having to swat them away from you? We're sure you have. It doesn't make for a fun time, does it? There is one up-side to this bad experience, however — now you know just how important it is to find a way to prevent mosquitoes from taking over your next outdoor event!
Mosquitoes can ruin any outdoor event during the summertime due to the fact that they become much more problematic during the warmer months, but there are a few techniques that you can perform in your yard or around your home before any upcoming summer events to help reduce problems with these biting pests.
To avoid mosquito problems, you will want to make your property as unappealing to mosquitoes as possible. Certain plants can actually help repel mosquitoes from your yard by emitting certain mosquito-deterring odors; lavender, marigolds, and citronella grass are some of the more effective options. Though some plants can keep mosquitoes away, the more flowery and fragrant plants and trees actually attract mosquitoes as these pests actually feed on the nectar of plants and flowers as well as blood! It is important to remove the features of your yard that attract mosquitoes to your property. One of the biggest things that attract mosquitoes is standing water, which they need to reproduce. By eliminating areas of standing water on your property, you can reduce their breeding sites and therefore reduce their populations on your property; you can accomplish this by maintaining your gutters, filling in any low areas of your yard, and draining kiddie pools, wheelbarrows, and other items when not in use. Mosquitoes also need cool places to rest and get relief from the sun such as tall grass and bushes; by keeping these areas trimmed short, you can eliminate their hiding places. Another option to avoid problems with mosquitoes during your event is to urge anyone attending to wear light, protective clothing and to use an effective mosquito repellent to avoid bites. For more information about there pests, check out this blog.
These prevention tips sound great in theory, and though they may not work for every situation, they are definitely worth a try; however, for the most effective protection from all of the annoyances and dangers that mosquitoes cause for you and your guests, you should contact Montgomery Exterminating! The only real way to ensure that your outdoor event will be mosquito-free is to use our one-time treatment option to control mosquitoes. Our team will come 24-48 hours before your outdoor event to treat shrubs, bushes, and other landscaping as well as fences, decking, and other outdoor gathering areas around your property, as well as any breeding sites that we find. We also offer seasonal mosquito treatments to keep the mosquito populations on your property down throughout the entirety of mosquito season. Call Montgomery Exterminating today to plan ahead for your next backyard cookout, wedding, or other outdoor events!