Flea Season Is Upon Us
June 22, 2018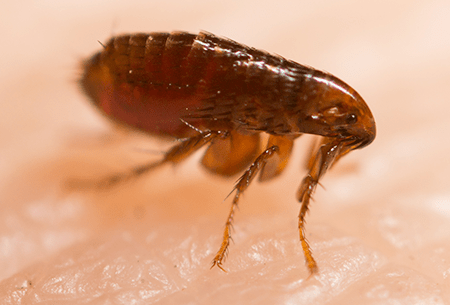 You may think you are safe from a flea infestation because you either do not own any pets or have already had your pets treated for fleas and ticks by your veterinarian. It is important to understand that flea infestations are certainly not guaranteed each year, but they can occur in any home, with or without pets.
Fleas are parasites that usually flourish in extremely warm weather, and are a nuisance for pet owners. These tricky little pests can jump onto people, clothing, and other belongings and hitch a ride to just about anywhere, including your home. Even though they prefer warmer weather, fleas can be a year-round problem. You should know that fleas are not just a nuisance; in their quest to feed on blood, they can bite hundreds of times a day, which can take a toll on its host, whether it be a human or a pet. Their bites can cause red itchy dots, as well as more severe allergic reactions. As they feed on their host, they are also capable of spreading a variety of diseases and be intermediate hosts for tapeworm.
Controlling fleas is a difficult task considering only adult fleas live on pets. When fleas are at any other stage of development (the egg, larvae, or pupa stages), they live elsewhere inside your home or hidden outside, lying in wait for an opportunity to find a host. Dogs and cats can become infested with fleas through contact with other animals that have fleas. It is possible for them to get fleas from spending extended periods of time outdoors in thick vegetation or wooded areas. Humans are capable of picking up a flea or two from those same areas.
Montgomery Exterminating is experienced in providing effective flea control in backyards and properties in and around the Tulsa and Grand Lake area. Our professional technicians focus treatments on areas like tall grass, lawns, and shrubs, where fleas are most likely hiding. To find out more about our residential pest control options, give us a call today!