Four Reasons Why So Many Tulsa Homes Get Termites In The Spring
May 3, 2019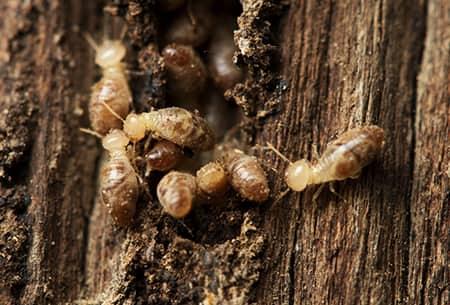 Termites in Tulsa, Oklahoma are a serious reality. Therefore, homeowners should do everything in their power to prevent them from invading their homes and causing costly damage. Termite prevention in Oklahoma is vital.
In the spring, March through May, Tulsa residents can experience signs of termite swarmers. These are the reproductive members of a mature termite colony. They exit their colony and "swarm" in order to find mates and begin new colonies to populate. Most swarming occurs after a good rainstorm in the spring.
Damp moist wood is preferential to termites, but they will invade all kinds of wood. Typically their activity is confined to the outdoors which is great for the environment since they break down organic debris and vegetation. However, when cellulose or wood is scarce outdoors and the need for food for the members of the colony rise, the workers will forage for food inside the wood of homes.
Here is a recap of the reasons why homes get invaded by termites in the spring:
Damp wood that is caused by spring rain.

Termite swarming to start new colonies.

Foraging for food for their growing termite colonies.

The termites' inherent desire to chew through wood and items that contain cellulose.
Termites work around the clock. Slowly you may start to notice wood buckling, floors swelling, ceilings warping, paint blistering, and doorways warping. Wood will sound hollow if tapped on and inside the wood will look like honeycomb. Other signs of a termite infestation include mud tubes around foundations or basement walls and sawdust debris outside exit holes in the wood. If these termite warning signs become evident, that means termites have been silently eating away at your home for weeks, months, or years. All in all, this can weaken the structure of your home and be extremely costly.
Don't make the mistake of ignoring the early signs of termites or by trying to get rid of them on your own. It takes the knowledge and tools of professionals to eradicate an infestation completely at the root of the problem. If you want to prevent termites or think you have an infestation, you can count on the specialists at Montgomery Exterminating to effectively guarantee you a termite-free home.
Mongomery Exterminating's certified specialists are proficient in installing the Sentricon Termite Colony Elimination System that gets rid of existing termites and prevents new colonies. Sentricon termite stations are strategically placed on the perimeter to create a barrier of protection around your home. Inside each station is the bait that is irresistible to the termites, and contains an ingredient that is lethal to them.
It is essential to get termite protection and the Sentricon System as soon as possible so that you will not have to deal with the after-effects of costly damage. Call us today at Mongomery Exterminating and ask us about our 100% guaranteed termite control.