How Termite Control Works
February 28, 2018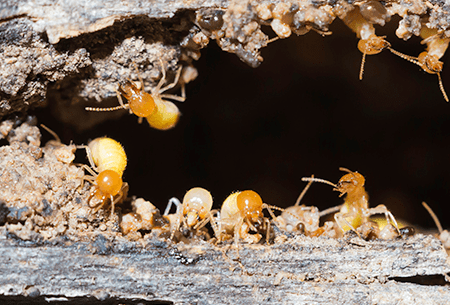 As homeowners, we want to protect our homes and families from damages and harm. We know that some pests can be really bad news and cause costly damage. Termites are one of the most damaging insects and cause homeowners in the United States billions of dollars each year in damage and repairs.
You may wonder how they can do so much damage to a home, but really all it comes down to is that termites are built to eat wood-based materials. This means they can feast on furniture, floors, walls, ceilings, and worst of all, the structural support beams in your home. This can create a weakening in the structure of your home that can eventually cause it to collapse. It may be something that you have not thought about before, but many Tulsa homes have active termite infestations, making it important to understand what you should be looking for, termites usually leave behind several clues.
As a homeowner, no matter how vigilant you are, a termite infestation can go beneath your radar for months or years. Unbeknownst to you termites are marching into your home, setting up satellite colonies, reproducing, and eating their way through the wood in your home. They are able to be continually active, never needing rest or sleep. In many cases, they are almost always hidden inside dark tunnels underground or inside the wood they are feeding on. The only signs of termite activity you may see are the usually well-camouflaged mud tubes they make to cross open spaces, the small exit holes and "frass," sawdust-like feces they leave behind, or the odor from their feces. Eventually you may see warped and bowed floors and ceilings, or discover hollowed-out wood, but these signs are not usually obvious and are indicators of catastrophic damage. Your best bet is termite prevention, but if you already have an infestation you will need a professional termite technician to get rid of the existing colonies.
Here at Montgomery Exterminating, we can take care of both of these tasks at once, using eco-friendly termite solutions to stop and prevent these pests from compromising your home or business. Our services include Sentricon® System with Always Active™, a highly effective system that uses very little active ingredient in termite stations to eradicate termites inside your home and completely eliminate entire colonies as well as satellite colonies outside.
Montgomery Exterminating's termite services include:
Inspection: We will look for signs, damages, and ideal termite conditions on your property.

Installation: We will strategically place Sentricon® with Always Active™ bait stations in the soil around your home.

Elimination: The termites will eat the bait provided and return it to their colonies, systematically killing the entire population.

Monitor and replenish: We will monitor the bait stations to watch for termite activity, and replenish bait as needed.
DIY products fall short of complete eradication, are time-consuming, and can be messy. Count on the professionals at Montgomery Exterminating in the Tulsa, Oklahoma area. Contact us today for more information about how we can help you prevent an infestation of these wood damaging pests.