How To Avoid Attracting Wolf Spiders To Your Home
May 15, 2019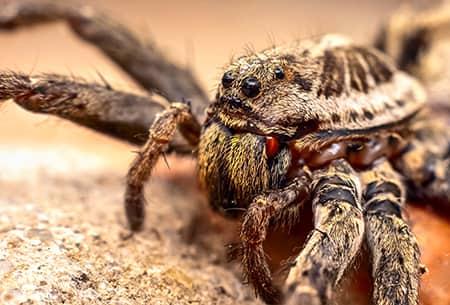 Wolf spiders might just be the most ominous looking spider that you might come into contact with in Tulas. The name itself can strike fear in people. Coming across a wolf spider, when you are looking in your closet for the perfect outfit to wear, can definitely ruin your day. These spiders and others are unwelcomed guests in most homes and need to be evicted.
If you have never seen a wolf spider, let me paint a picture for you on how they live up to their name. They look much like the big bad wolf because they are bigger and hairier than most spiders. They mainly feed on crickets, spiders, grasshoppers, and small invertebrates. When they are hungry they go out and hunt for their food. Once they find their prey, they jump on them, subdue them with venom, and proceed to eat them. Much like real wolves, wolf spiders hunt in packs and usually live in caves or burrows. Fortunately for humans, their venom is not strong enough to cause anything more than localized skin irritations.
As a homeowner in Tulsa, a variety of spiders can be a problem for you all year long. At the root of any spider issue, the problem is usually an additional infestation of common insect pests. All insects are what spiders consider tasty food which will draw spiders inside your home.
In the springtime, spider eggs hatch indoors and outdoors. Many spiders hatch indoors because that's where spiders end up after chasing down their food. Once indoors, if there is a steady supply of food for them, they are going to end up staying. They will hide in attics, basements, stored boxes, containers, and wall voids. By summertime, they are becoming bigger and more noticeable adult spiders. Not only by their presence but by the webs that some spiders will build in corners all over your home. In any event, you will want to try to prevent spiders from invading your home.
Ways to avoid attracting wolf spiders and other spiders to your home:
Get rid of other invading pests.

Reduce moisture in and around your home.

Keep your yard tidy by cleaning up piles of leaves and brush.

Install insect-resistant outside lights.
If you are interested in eradicating all spiders, insects, and other pests and preventing them from coming back, you will need a professional pest control company like Montgomery Exterminating in Tulsa, Oklahoma. Our expert technicians will make sure your spiders are gone and that they won't come back--when you sign up for our year-round pest control services. Give us a call today at Montgomery Exterminating for more information on how we can help you with all of your pest problems.