How To Avoid Making Your Home A Target For Termites This Summer
July 31, 2018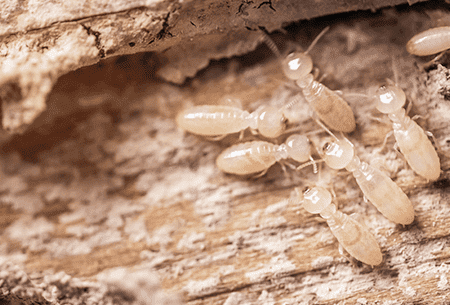 Termites are very interesting insects: they are rarely seen by people, work completely inside of the wood they have invaded, and can cause extensive and costly damages without homeowners even knowing they are present inside their home! However, just because they are interesting pests doesn't mean that you allow these destructive termites to live on your property or in your home. But, like we said before, termites have the potential to invade homes without anyone noticing, so how do we prevent these pests from invading if we can't even see them coming? Well, the first step is correcting these common mistakes that could be attracting termites to your home.
Here are some common mistakes homeowners make that attract termites:
Placing wood and compost piles in close proximity to the exterior of your home.

Not getting rid of the rotting, decomposing tree stumps or fallen trees located on your property.

Never cleaning out the rain gutters installed on your home; this allows rainwater to build up and seep into the walls of your home.

Allowing shrubs, bushes, and other landscaping planted next to your home to become overgrown and prevent the sun from reaching and drying out the soil near your home.

Not replacing landscaping ties used to create a border around garden areas with stones that don't attract termites.

Not fixing those leaky faucets, fixtures, and pipes located on the exterior and interior of your home that are causing water damages and moisture problems.

Never replacing any structural wood inside your home that has been damaged by water; termites are highly attracted to water-damaged wood.

Not knowing the signs of a termite infestation such as piles of discarded wings from termite swarmers, mud tunnels running along the ground or the foundation of your home, or hearing sounds of tunneling and insect activity behind your walls.

Finally, the best way that you can make your home a target to termites: never putting a professional year-round termite prevention program into place!
To avoid attracting termites to your home and property and to protect your bank account from their costly damages, do the opposite of everything that was listed above!
Take care of any moisture issues on your property, know how to identify a termite infestation, and, of course, implement a professional termite control program! At Montgomery Exterminating, we can help you to put a long-term solution to termites and their damages into place through the installation of the award-winning Sentricon® System with Always Active™. This system can be installed discreetly and will begin working as soon as the bait stations are strategically placed around your property; this system works to quickly eliminate any termites that are currently invading on your property and remains in place to prevent future problems with these wood-destroying pests.
To learn more about how we can protect your home and your wallet from damaging termites with our highly-effective termite control options, get in touch with us at Montgomery Exterminating today!