How To Protect Yourself From Dangerous Ticks In Tulsa
May 10, 2023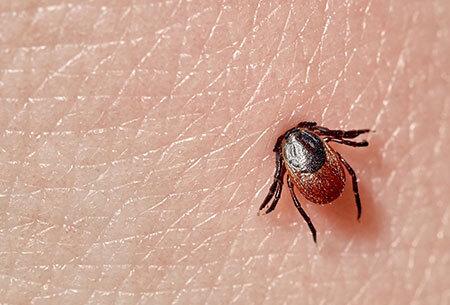 Ticks are known as external parasites. They attach themselves to your body and feed on your blood. Because they are so small, you usually don't even realize that a tick has bitten you until after the bug has detached itself from you and left the vicinity.
At Montgomery Pest Control, we have seen the kind of damage that the ticks in this area can cause. Our Tulsa pest control technicians know how to keep you safe by keeping your yard tick-free.
What Exactly Is A Tick?
Ticks in Tulsa may look like a type of insect. But, actually, these tiny creatures are part of the arachnid family and are closely related to spiders. There are many different types of ticks, and they can range greatly in size. They can typically be as small as a poppy seed or as large as an apple seed.
They eat the blood of humans, cats, dogs, birds, and other mammals. Ticks don't bite their host like any other arachnid. Instead, they will embed their head into their victim's body to drink the blood. If you see a tick on you, it can be difficult to remove. The best way is to get a pair of tweezers and grab it as close to its head as you can. If you grab its body and pull, you could accidentally leave its head in your body, which could lead to an infection.
The Dangerous Diseases Tick Bites Are Known To Spread
Ticks are known to carry a wide range of diseases. If they bite you, they could easily pass these diseases onto you. Some illnesses you could catch from a tick include Rocky Mountain spotted fever, boutonneuse fever, tularemia, and tick paralysis.
The deer tick, also known as the blacklegged tick, is known to spread Lyme disease. If you become infected with this disease, you may notice a rash around the tick bite that forms a red ring and looks almost like a bull's eye. For most tick-borne diseases, including Lyme disease, the tick usually has to be attached to you for 24 hours before the disease is transmitted to you.
Five No-Sweat Tips To Prevent Tick Bites While Outdoors
In Tulsa, the tick season lasts much longer in this area than it does in the rest of the country. While ticks are most active in the summer, they can stay active as long as the temperatures stay above 48°F. If you want to avoid getting bit by these dangerous bugs while you are outdoors, some of the tick prevention steps that you can take include:
Wear tick repellent when outdoors
Make sure that the grass in your yard is not too tall
Keep bushes, shrubs, and other vegetation cut back away from your home
Remove piles of leaves, fallen tree branches, and other debris from your yard
Use a tick-repellant treatment on your pet
Ticks are sometimes brought to your property by attaching themselves to other animals. If you want to keep ticks out of your yard, consider removing your bird feeders or other objects that may attract different mammals to your property.
The Most Effective Tick Control Solutions For Your Yard
Ticks are dangerous and difficult to get rid of. If you want to keep you and your family safe this summer, call our Montgomery Exterminating tick control professionals today. We have years of experience dealing with the various ticks in Tulsa, and we know what it takes to keep your Tulsa yard tick-free all year long.