How Tulsa-Area Homeowners Can Protect Themselves Against Mosquitoes
March 28, 2019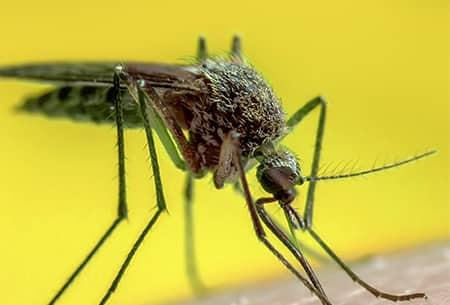 It's that time of year when mosquitoes become active again and start growing their population. It is also the time of year when we start to think about picnics, barbecues, summer parties, and outdoor events. Once again, we dread the uninvited mosquitoes that can ruin it all as we think back to last year when we felt like we were losing the human versus mosquito battle. They drove us crazy with their incessant buzzing around our ears, nose, and face; not to mention the annoying stings that make us slap ourselves silly. It's no wonder we can't enjoy our own backyards in the summer. Mosquitoes once again will win, causing us to seek refuge inside our homes or holding us captive inside crowded screen tents.
The annoyance of mosquitoes is not even the worst part about them. They can carry and transmit many diseases, including the Zika virus, West Nile Virus, encephalitis, yellow fever, dengue fever, chikungunya, and malaria. While not all mosquitoes carry disease, it isn't worth the gamble of letting them breed and multiply in your own backyard.
June is prime time for mosquitoes. They initially start the season in March or April when the warmer temperatures and moist conditions from the rain. Then they stick around throughout October, and sometimes as late as November depending on the species.
A huge problem that tends to attract mosquitoes to your home is standing water. They can lay eggs in thin films of water in puddles, overturned toys, unused tools, wheelbarrows, clogged gutters, buckets, lids, and sagging tarps, just to name a few.
So, how can you protect your Tulsa-area home against mosquitoes? It's best to get a head start now before their populations explode later in the spring and throughout the summer.
Start protecting your home by eliminating standing or stagnant water with these steps:
Empty kiddie pools after each use.

Fill in mud puddles.

Fix leaky faucets outdoors that cause pooling.

Overturn buckets, toys, and other items that collect water.

Clean out clogged gutters and directing water away from your foundation.

Mow your lawn on a regular basis to keep it short

Trim bushes back so they don't touch the exterior of your home.
If you would really like to drastically reduce the mosquito population in your home, you will want to bring on a professional exterminating service. Montgomery Exterminating in the Tulsa and Grand Lake Regions of Oklahoma offer effective mosquito control programs. Just give us a call to find out more about how you can start enjoying your own backyard again this summer.