How Tulsa Homeowners Can Keep Their Yards And Pools Mosquito-Free
June 13, 2019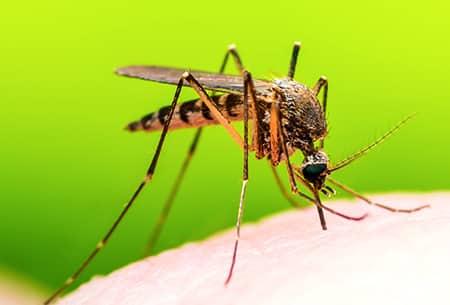 How many times has this scenario happened to you? You go outdoors to chat with your family, relax with the kids, or to do a little gardening. Soon you are swatting at insects and slapping your arm or leg, only to realize you were too late - you've already been bitten by a mosquito.
It's a common scene in Tulsa, and all of Oklahoma, where more than sixty species of mosquitoes are flying around. Mosquitoes can be seen in our state from March through November, but the months when mosquitoes are most prevalent are April through July. If you think you see more mosquitoes in June than during the rest of the year, you may be correct. The warm temperatures and moist weather that is common in June cause mosquito populations to explode.
One of the biggest reasons you see mosquitoes in your yard is the presence of water. A swimming pool is a big draw for these pesky critters, just as it is for people. As enjoyable as a pool is in the Tulsa summer, it may also be attracting bugs.
But it doesn't take a full-size pool to make a mosquito happy. In fact, they can be drawn to water that gathers in places you barely notice - in the bed of a toy truck your child left out, in the bottom of an empty planting pot, or in a small dip in your lawn where water gathers when it rains.
Why is water a big deal to mosquitoes? According to the Centers for Disease Control, some mosquitoes lay their eggs either in standing water or near it. In fact, the CDC cites studies that show female mosquitoes actually prefer to lay their eggs in water that's standing in a manmade container.
The Aedes Aegypti mosquito lays eggs on the sides of containers that are filled with water, and the eggs stick to the container. The eggs can even survive when they have dried out, and once rain or water covers the eggs, they'll hatch.
The CDC recommends that you check your home and yard weekly to locate and empty any sort of container that could hold standing water, such as pet bowls, birdbaths, trash cans, discarded tires, and the saucers under flowerpots.
Discard any of these items that you no longer need or use. Items you plan to keep should be emptied of water, scrubbed to remove any mosquito eggs that may be stuck to the walls, and covered or turned over to prevent more water from entering and attracting bugs.
You already know that mosquitoes are a real nuisance and that their bites can cause an uncomfortable itch, but mosquitoes are also a serious health hazard. Diseases linked to mosquitoes include the Zika virus, which is especially dangerous to pregnant women and their babies. Other mosquito-borne illnesses include malaria, yellow fever, encephalitis, dengue, and West Nile virus.
While most of these diseases are rare, why take chances? Montgomery Exterminating can help you to control the problem of mosquitoes in your Tulsa yard, even if you have a swimming pool.
Contact Montgomery Exterminating to get details about our mosquito programs, which include a one-time control service for special events and full-season mosquito control programs.