How Worried Should Homeowners Be About Gophers Around Tulsa Properties?
December 18, 2019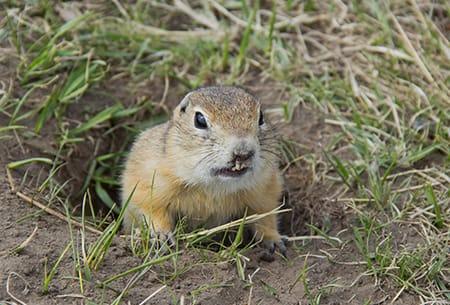 We Oklahomans work hard on our lawns and yards and we take it personally when pests come along and mess things up. That's why it can be concerning when we notice little mounds of dirt cropping up in the grass in our backyards. If you are seeing this, perhaps you are thinking: Should that be happening in the winter?
Gophers Do Not Hibernate
Unlike other mammals and rodents, gophers are active during the day and don't hibernate in the winter. The mild climate in Tulsa allows them to stay active during the cold months. Even if it gets a bit chilly, gophers simply burrow deeper into the ground where heat stays trapped. At the time of the year when you're more concerned with staying warm indoors and planning for the holidays, gophers might be outside wreaking all kinds of havoc and undoing all your hard work. Gophers can dig hundreds of feet in tunnels in a short time, so it doesn't pay to ignore the problem.
How Much Damage Can A Few Gophers Do?
You might be surprised at how many answers there are to that question. So much of a gopher's activity is invisible to the naked eye, but make no mistake, they can cause problems in many ways that wind up costing a whole lot of money to fix.

Here are just a few:
Gophers disrupt root systems and kill off grasses, decorative plants, and trees.
Mounds left behind can damage lawn equipment like mowers and tillers.
Those holes and tunnels are also tripping hazards, especially for the young and the elderly.
Hollow earth beneath the ground threatens the structural integrity of sheds, garages and even houses, running the risk of collapse.
Gophers will burrow right through subterranean utilities, possibly damaging wires, water tanks, and pipes.
Other Problems Gophers Can Cause
Like all rodents, gophers can carry diseases that are harmful to humans and pets. While gophers aren't normally aggressive, they can get infected with rabies, which increases aggressiveness. Since the disease is spread through scratches or bites to the skin. This problem can quickly spread through rodent populations and infect humans. Gophers are also known to bite or scratch when they feel threatened, and with poor eyesight and hearing, they can get spooked easily by pets or wandering children. Aside from rabies, gophers are known to carry plague, hantavirus and monkeypox, all of which can be transmitted through skin exposure and through bites and scratches.
How Montgomery Can Help
If gophers have made a home out of your property, don't try to eliminate the problem on your own. Since they live underground and hide from people, gophers can be extremely difficult to get rid of.

Let the pros take care of them for you with thorough and effective extermination. Turn to Montgomery Exterminating. We have decades of experience at protecting Tulsa-area homes from pests of all shapes and sizes. And we pride ourselves on outstanding customer service and loyalty to our customers. We tailor our pest solutions to the needs and schedules of homeowners and businesses, with a variety of residential and commercial services.

We're committed to total customer satisfaction, so our experts not only get rid of the problem, but we also provide education on prevention measures and give peace of mind for the future.

Don't spend your winters out in the cold trying to chase down gophers. Stay warm inside and turn to the professionals at Montgomery Exterminating to take care of the problem for you.