Mosquitoes: True Threat Or Simple Nuisance
May 16, 2018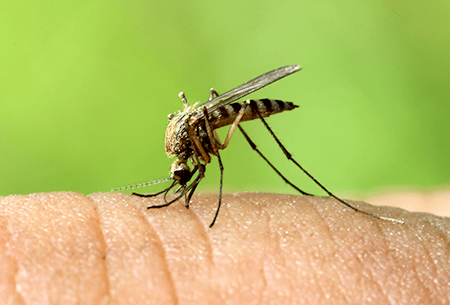 For a very long time, we looked at mosquitoes as little more than a nuisance. We heard about scary mosquito-borne illnesses in foreign places – maybe something about malaria or dengue fever in Africa or yellow fever or Zika virus in South America, but that's not something we worried about here in Tulsa. Flash forward to the here and now and we have learned much more about mosquito-borne illness and those that affect us here in our region. What was once a simple nuisance has transformed into a true heath threat. However, there are many things homeowners can do to protect themselves from mosquitoes.
Most of the time mosquitoes are a simple nuisance. They start making their presence known as soon as we get the first warm nights in early spring and remain a threat through late fall. Their irritating buzzing in our ears signals that they are close enough to bite. Their itchy bites can drive us crazy and can cause unsightly bumps and welts.
Unfortunately, as mosquitoes bite, they can transfer blood-borne viruses to humans. West Nile virus is found in Oklahoma and can be harmful to the elderly or those with weakened immune systems. It can cause fever, body aches, rash, and in rare cases meningitis. Zika virus can be harmful to pregnant women as it can cause damage to the fetus. While it's not confirmed in OK, be mindful of traveling to areas with known Zika outbreaks or being around others who have potentially been exposed.
While there are a few things you can do around your home to help reduce the number of mosquitoes, such as cutting back shrubbery, draining standing water, keeping your grass short, and planting natural repellents, nothing is better than a professional mosquito control plan like we offer at Montgomery Exterminating. We'll inspect your property to find breeding spots and treat those areas. Then we'll target areas where mosquitoes like to rest such as around landscaping, fence lines, pools, and patios. Once a month during peak mosquito season, from May through September, we'll treat your property to reduce mosquitoes.
With a mosquito control plan from Montgomery Exterminating not only will you be reducing potential virus-carrying mosquitoes from your yard, but you'll be able to enjoy your outdoor living space without the pesky buzzing and biting of annoying mosquitoes.