Should Tulsa Residents Be Worried About Gophers This Summer?
July 31, 2019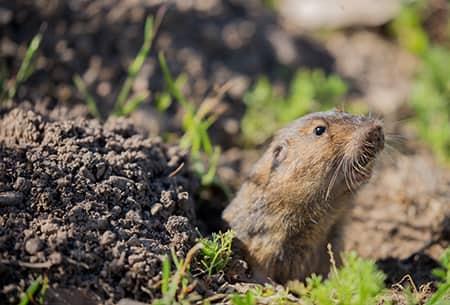 With summer at its peak and fall just around the corner, it can be easy to believe that the pests you must deal with in winter and spring are far behind you. In the case of gophers, however, this simply isn't true. It is quite common for Tulsa residents to find an unpleasant surprise in their lawns once the season for gardening is underway. The surprise: gophers that decided to invade during winter or spring. Gophers are year-round pests due to the climate here in Oklahoma, and a year-round threat requires a year-round solution.
Gophers Damage Lawns and Plants
Gophers don't invade to peacefully coexist with people. They can create major issues for gardens, lawns, and decorative plants. Additionally, gophers are known for leaving unsightly mounds of dirt all around Tulsa properties, typically close to an entrance tunnel. The tunnels gophers create often cause weak spots in lawns, which can result in physical injury. If you are gifted with a green thumb, your garden plants could be in danger of being eaten. Unfortunately, it can be hard to spot when your garden has been targeted. This is because gophers tunnel underneath the soil to your garden and typically only feed on the roots of your plants. Usually, this leads to your plants withering and dying.
What attracts gophers?
Gophers are attracted to open expanses of grass with close available food sources. Because gophers are herbivores, a garden can be an attractive factor. Properties that are closer to parks, golf courses, and meadows tend to be more prone to gopher problems than other homes, however, you still might experience gophers on your Tulsa property even when none of these large expanses of grass and dirt are nearby. The best and most effective way you can handle your gopher problem is to get help from the pest professionals here at Montgomery. We have the skills, equipment, and knowledge to help you have a pest-free property this summer. Contact Montgomery today for a full list of the services we offer Tulsa residents! Keep your beautiful lawn protected against the problems and damage that gophers, moles, and other problematic pests can cause.