Tulsa Residents Giving This Stinky Bug The Boot     
October 17, 2019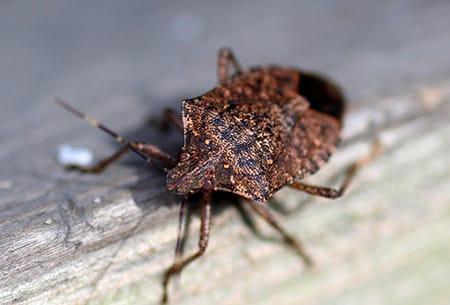 Stink bugs are gray, brown, or tan-colored insects with shield-shaped bodies. These smelly insects are an invasive species from Asia that were introduced to the States in the late 90s. Now, stink bugs exist in the majority of states across our continent. Brown marmorated stink bugs are a major nuisance pest to find in your Tulsa home, although they aren't considered dangerous or damaging to your property. Instead, they are more of an agricultural enemy that feeds on crops. Stink bugs got their name from the strong, unpleasant odor they produce when threatened or squished. Some homeowners describe this odor as extremely foul, while others say it smells more like a wild herb.
What attracts stink bugs?
Like many insects, light attracts stink bugs. While they usually attempt to enter Tulsa homes during the day, they are drawn to houses when light shines through the windows at night. Most of the time, however, stink bugs will congregate on the warm sunny side of Tulsa buildings. They then find a way into your home through gaps or cracks in your exterior walls and foundation. Stink bug infestations are more common in the fall as they seek shelter from the colder weather. If stink bugs get into your house, they'll overwinter in your walls, attic, and other quiet places until spring arrives.
Stink Bug Prevention Tips
Stink bugs usually only invade Tulsa properties to overwinter. The best way to prevent a stink bug infestation on your property is by implementing a few preventative measures. Follow these tips to avoid finding stink bugs in your home:
Make sure your window and door screens are free of rips or tears.

Seal cracks in your walls and foundation with a caulking gun or steel wool.

Wipe window sills and doorways with scented dryer sheets.

Pull weeds from your garden.

Eliminate stink bugs on the exterior of your house to avoid attracting other stink bugs to your property.
The pest professionals here at Montgomery Exterminating have the skill, experience, and the tools necessary to keep stink bugs and other pests away from your Tulsa property year-round. Our residential pest control services will keep your home protected from pests of all shapes and sizes. To learn more about how Montgomery Exterminating can keep your Tulsa home pest-free, consider reaching out to us today.