Warning Signs Of Termite Infestations In Tulsa Homes
March 7, 2019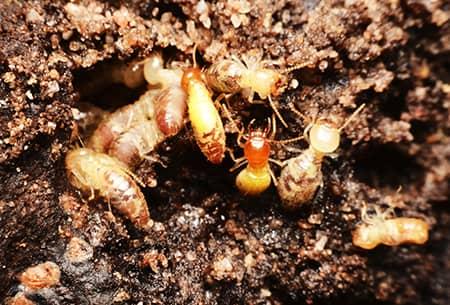 Spring is almost here, and with it will come so many things to enjoy. Warm weather means time spent outdoors. The few rainy days we experience help flowers burst into life. The sun brings life to leaves where there were bare branches only weeks ago.

Spring also brings a bit of unpleasantness with it, though. Spring is considered termite season, and everyone knows that termites are bad news. To protect your home against these damaging pests, you need to know the warning signs of a termite infestation in your Tulsa home.
Why Spring is Considered Termite Season
Saying that spring is termite season is a bit misleading. Termites are actually active year-round, allowing them to continue with their destruction by eating away at your home 12 months a year. However, spring is the time of year when they typically breed, which is why it's often referred to as termite season.
Warning Signs of Termite Infestations in Tulsa Homes
The only good thing about termite season is that it offers one of the only chances you have to get visual confirmation of termites near your home. Termites spend their entire lives either underground or within the wood structures of a home, with one exception. When termites mate, the reproductive members of a colony come out in a swarm. They look for a mate, shed their wings, and then begin a new colony.
If you see a termite swarm or find a pile of discarded wings, you can be sure that there is an active and large termite colony nearby. It may be in your home or it may not be. Either way, this sign of their presence is cause for serious concern.
Even if you don't see signs of a termite swarm, there are other warning signs to be on the lookout for to let you know that termites may be in or near your Tulsa home:
If you see mud tubes, which are about the diameter of a pencil, along the outside of your foundation walls or inside along your basement walls, you have a termite problem.
Small holes in wood structures, as well as little piles of a sawdust-like substance below the holes, indicates a termite problem. These holes are easy to miss, as they are often out of sight within walls or in hard-to-reach areas, like crawl spaces.
If you notice sagging or bulging walls, ceilings, or floors, or doors and windows that won't close properly, this could be an indication of termite presence.
What to Do if You See Any Warning Signs of a Termite Infestation
Because of how easily termites can go undetected and how deep within your home they can tunnel, the only way to ensure that you've eliminated them is by getting professional pest control. Montgomery Exterminating can help!
Our termite control services utilize the Sentricon® System with Always Active™. This system places eco-friendly bait stations around the perimeter of your house. When a termite takes the bait, it also brings it back to the rest of the colony, eliminating every termite there.
If you think termites are around your home, don't take any chances. Call Montgomery Exterminating to protect your home against the threat of termites.