What Are These Silver Bugs In My Home?
October 15, 2017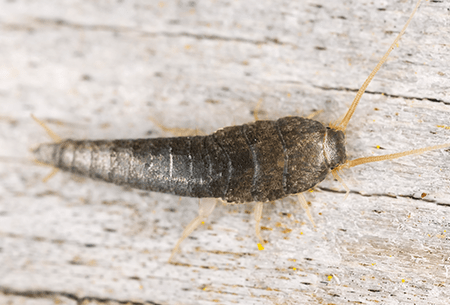 Image you are brushing your teeth or you are reaching for a midnight snack from the fridge. You look down and see a silver bug slithering across the floor. It can be pretty unsettling to experience these small silver bugs, known as silverfish, in your home. Silverfish are metallic silver in color, are smaller than an inch, and oval shaped. They get their name from their fish-like shape and movements and even though they don't have wings, they have tiny legs and can move very fast.
These silver bugs are drawn to moist and humid areas in your home, such as bathrooms and basements. To prevent or get rid of silverfish it is important to quickly repair leaky pipes, clean out drains, and get rid of moldy or wet wood in the home. Other preventative measures include proper cleaning of water prone areas such as around toilets or showers and investing in a dehumidifier, which will help prevent moisture build up. Silverfish prefer to feed on paper items, clothing, and foods like flour and rolled oats. Not properly storing these items is like inviting the silverfish to dinner. It is best to avoid storing old magazines and books in basements, attics, and garages. In addition, store the oats and flour in sealed, airtight containers. Unfortunately, silverfish can go easily unnoticed as they are quick and primarily come out at night. If they go unnoticed and preventative measures have not been taken, they can cause serious damage to wallpaper, books, and could contaminate food.
The most effective way to either prevent an infestation or to get rid of silverfish is to contact Montgomery Exterminating of Tulsa for help. Montgomery Exterminating is a family business that has been helping protect home from pests, including silverfish, for 25 years. A highly trained technician will come to your home to determine what the best plan is for your needs. They can provide indoor and outdoor treatments and establish a prevention plan. Their team is committed to providing personal and quality service. The perfect solution to eliminating any nuisances caused by pests is Montgomery Exterminating's year-round home pest control plan. Their aim is to help you get rid of and avoid those scary looking silver bugs, as well as other pests, for good.