What Does Termite Damage Look Like?
September 17, 2018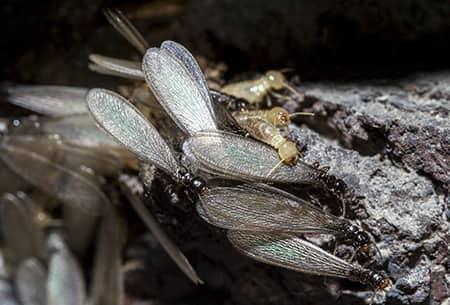 In Oklahoma, it's extremely important to be on top of termites. Subterranean termites are found in every county in our state and are the worst species of termites. They cause more damage than any other, by far! And they are great at staying under the radar until the damage is severe enough to be a huge problem. Other termites do hundreds of millions of damage annually in the U.S. These guys do billions! Over time, termites can collapse an entire building. That's why Oklahoma residents should always be on the lookout for the slightest sign of these devastating pests.

The easiest way to identify a termite infestation is to see the insects themselves. But this is highly unlikely. The insects will be small and pale yellow to dark brown or black in color. Termites have different jobs within their colonies, so you may see some that have wings. These termites are referred to as swarmers and their main role within the colony is to reproduce. They start new colonies. You may see these members flying about or even notice their discarded wings around your home. With a termite infestation, however, it's likely you will never see the insects but will notice the damage they cause first. Termites are very good at going unnoticed, sometimes for years! It's important to keep an eye out for signs of damage. That leads us to a common question, what does termite damage look like?

Unfortunately, with subterranean termites, they usually build their nests in the soil so they're not likely to be noticed. What you may find are tunnels and mud tubes along the exterior of your home on your foundation walls. These mud tubes are a telltale sign as they are distinct to termites. Their colonies will spread out with tunnels and mud tubes in order to reach more food to feed their colony. Indoors, the damage can be just about anywhere. Here are some more signs to look out for:
Sagging or spongy floors.
Cracks in your walls.
Cracks or tunnels in any wooden structures; beams, rafters, within walls, ceilings, decks, fencing, window frames, trim, etc.
Damaged roof tiles. This could allow water damage to wood, which can attract termites.
Break apart damp wood in your yard to check for termites inside. If they are around your yard, this means they could have found their way inside as well. All termites need is a tiny space of 1/32 of an inch to get inside your home.
If you tap on the wood where termites have done damage, a hollow sound can be heard.
If you experience any of these signs, it's time for action. You can try to keep termites in control on your own, but the longer the infestation goes on the more detrimental the damage will become, especially when dealing with subterranean termites. It's vital that you seek termite control and prevention as soon as possible. Seeking a professional will save both time and money in the long run, and cut down on stress.
At Montgomery Exterminating, we offer an eco-friendly termite solution with the Sentricon® System with Always Active™. This system has been proven to protect against termites by wiping out the entire colony without putting chemicals into the ground. No more termites, no more damage! To find out more about how Sentricon® with Always Active™ works, check out our video on our termite pest control page. To stop the stress of termites, and the damage they may be doing to your home, contact Montgomery Exterminating today.