What Homeowners Should Know About Ticks
May 4, 2018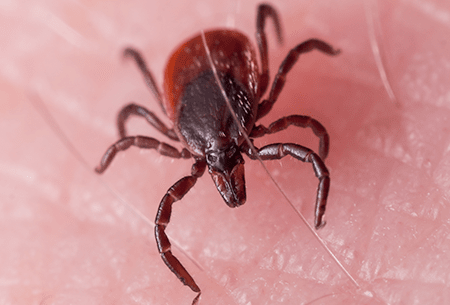 If there is one thing that is nice about frigid cold winter months, it is that we don't have to worry too much about bugs. Mosquitoes are gone, horse flies don't plague us, and ticks are the last thing on our minds. Once spring and summer roll around again, it is time to be aware of steps we can take to reduce our chances of being stung or bitten. But, before we talk about that, let's explore why populations of ticks increase in the warmer months.
Ticks need two things to thrive: moisture and warmth. As the temperatures warm up in spring, ticks become more active, and as rainfall creates moisture in our yards, it is easier for ticks to survive. This leads to a quick population growth.
How To Limit Ticks On Your Property
Ticks don't fly into our yards like mosquitoes; they ride in on the backs of wild animals. Therefore, reducing wildlife activity and guarding against rodents is the primary way homeowners can reduce tick populations. This includes deterring birds from being near exterior walls. If you have bird feeders and can't live without those wonderful birds dancing and singing on your property, it is wise to have a professional do a routine treatment around bird feeders and in bushes where ticks, or tick eggs, can be dropped.
Wildlife Management Tips
Keep your property free of unnecessary clutter. Animals love places to hide and, if you have lots of stuff scattered about, they will be more likely to explore and come in close to your home.

Remove leaf piles, areas of overgrown weeds, tall grass, etc. These are also places where animals can hide.

Put fencing around gardens or fruit trees. If you have fruits or vegetable leftovers, rodents and wildlife will love you for it. Fencing these areas can help keep animals away.

Keep all trash in tightly sealed containers. This will keep smells in, and animals out. If one animal manages to strew trash around, others will be drawn in as well.

Do not leave pet food outside. This also will invite animals to come in close.

Having a fenced-in area for your pets will help keep them from areas where ticks may have been left by birds or wildlife.
Beyond these measures, it is good practice to routinely apply veterinarian-prescribed flea and tick products to your animals. And it is wise to employ the help of a professional pest control company to reduce rodents and wildlife from your property to decrease the chances of you or your pets picking up ticks. For more information or to schedule service, reach out to Montgomery Exterminating today. We offer industry-leading tick and rodent pest control for residential and commercial customers in Oklahoma.