What To Do If Winter Wildlife Pests Have Invaded Your Lawn
December 28, 2018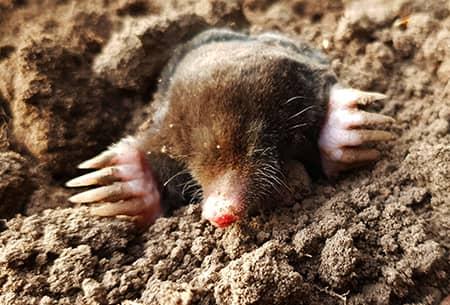 Gophers and moles don't disappear when the colder winter temperatures hit - they simply dig deeper underground! Both rodents are active year-round in Oklahoma, digging deep tunnels below the surface of your lawn. They cause significant damage to your outdoor property and, in some cases, become more than just a nuisance.
Signs That You Have a Gopher and Mole Problem
Just like most outside wildlife, when the thermometer dips, gophers and moles are looking for a warmer place to live over the winter. Gophers live deep underground in systems of tunnels that can be hundreds of feet in length. As they dig their tunnels, gophers create horseshoe-shaped mounds of dirt that may be hazardous to farm equipment. These mounds sometimes trip up homeowners are simply out walking around their property.
Gopher colonies can also cause problems on athletic fields, damaging playing surfaces and creating hazards for players. Gophers are attracted to moist soil that contains plants such as grass, dandelions, alfalfa, and other rooted plants they can eat. With their gnawing, they destroy the roots of lawns, field crops and other grasses, ornamental plants, and trees.
Though gophers are most active during the spring and fall seasons, they do not hibernate and will simply descend to deeper soil levels below the frost line in the winter. This digging action causes extensive damage deep underground where it cannot be seen until it's too late. Although they are not inherently dangerous to humans, gophers have been known to carry the rabies virus.
Moles cause significant damage to lawns, fields, flower beds, golf courses, and parks. Like gophers, they are also active year-round in Oklahoma and dig much deeper tunnels during the winter. They are non-threatening to humans and spend almost their entire lives underground. The mess they create on the surface of the ground is enough to cause headaches for property owners all over Tulsa. If you have moist, loose, sandy soil with lots of earthworms, your lawn is a perfect haven for moles.
How to Address Your Winter Wildlife Pest Problem
So what can you do if you have mounds of dirt all over your lawn and you think there's a subterranean gopher colony living next to your house? What if you suspect moles have taken over your winterized flower beds? Don't try to tackle a gopher or mole infestation alone. Since these animals live deep under the surface of the ground, they are extremely difficult to eliminate on your own.
Call the professionals at Montgomery Exterminating today for a free gopher and mole inspection. Our home pest control plans are designed specifically for Tulsa-area homes and properties so you can rest assured that they will work effectively. Contact us for more information. We are here to help you!