What To Do When You Think You Have An Active Termite Infestation
May 31, 2018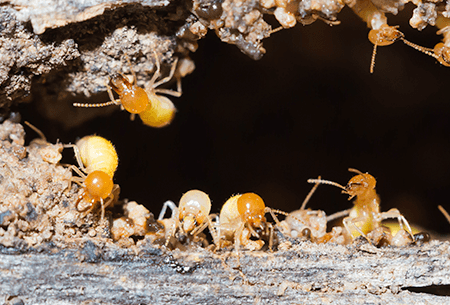 Do you think you've found evidence of termites? There are many ways a termite infestation can reveal itself. Let's take a look at a few of them and discuss some practical things you can do to respond.
Termite Signs
If you see black insects with white wings crawling out of a hole in your floor, there is little doubt that you have an active and mature infestation in your home.

If you see swarmers on exterior walls, this is also a warning sign of a current infestation.

If you see wings on your window sills, floors, or exterior surfaces they may be the shed wings of termite swarmers. Look to see if they are white in color and equal in length. This will help to differentiate them from the wings of ant swarmers.

If you see mud tubes on your foundation wall those are definitely from termites. Break a piece off and see if it is rebuilt over the next few days. If so, the infestation is active.

If you break off a piece of a stump in the yard and see pale insects crawling around inside, those are probably termites.

If you do a renovation and find pale insects crawling around in wood tunnels, those are definitely termites.

If you see trenches on an area of wood on the outside of your home in a location that is damp or shaded, look to see if those trenches are smooth or rough. If they are rough, they are likely termite trenches and tunneling.
What To Do If You Find Termite Signs
We're not going to beat around the bush, if you find signs of termite activity in your home, your first step should be to call a certified termite professional. A pest control professional (PMP) will be able to give you vital information about your issue and help you to minimize the damage. DIY termite control can add misery on misery and leave you with no assurance that your efforts have worked to arrest the infestation.
If you live in Oklahoma, find out if you're in our service area. Montgomery Exterminating uses the award-winning Sentricon® System with Always Active™ to protect property from destructive termites. Just like its name says, Sentricon® with Always Active™ is always active. When termites come to feed, this system starts working immediately to stop worker termites and eliminate the colony that sent them. Give us a call to learn more about our termite control options.