What You Can Do To Stop Fleas From Biting Your Pets
July 16, 2019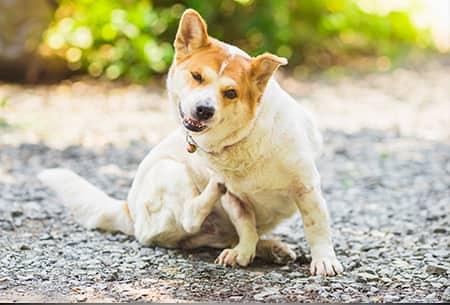 In Oklahoma, many pet owners are suffering through flea infestations this time of year. It's natural that fleas become more active in the summer when the weather is warmer, and pets are frolicking around outside. If you suspect you have a flea problem, there are steps you can take as a homeowner to remedy the situation. The ultimate best step is to call Montgomery Exterminators for professional treatment.
Why Pets and Pet Owners are Suffering from Summer Fleas
Fleas don't tend to survive harsh conditions like our cold Oklahoma winters. As spring arrives, they become more active, searching for a blood meal and reproducing. As your pets roll around in the grass and enjoy the summer sun, they are more likely to pick up fleas. Fleas are not only uncomfortable for pets with their itchy bites, but they can transmit disease and cause infections.
Steps to Take to Eliminate Fleas from your Pets
Once you notice you have a flea problem, you must go into damage mode rather than prevention mode. You want to get all fleas off your pests as soon as possible to prevent itchy bites, skin irritation, and to keep them from transferring fleas to your home and other pets. Your pet's veterinarian is your go-to source for proper flea prevention and removal. He can recommend products to help keep your pets protected from fleas. He will also help you to prevent and treat skin irritation on your pets that are caused by flea bites.
Steps to Take to Eliminate Fleas from Your Property
While flea and tick collars can help keep the risk of your pet getting fleas to a minimum, you can do your part around your property, as well. Fleas travel on rodents and other pests, so making your property unattractive to these pests is best.
Here are a few steps to take:
Keep grass trimmed short.

Avoid providing food for wildlife by removing bird feeders, pet food dishes, open trash cans, and plants outdoors that attract deer and other animals.
Ultimate Flea Protection with Professional Pest Control
Montgomery Exterminating offers complete flea and tick treatment for your property. Our trained technicians will inspect your home to determine what might be attracting fleas and the pests who carry fleas. We provide both indoor and outdoor flea treatment. If you suspect a flea problem, don't wait until the fleas multiply and harm your pets and your family. Contact us at Montgomery Exterminating to help keep your pets in Oklahoma flea free.