Why Call Montgomery If Fleas Become A Problem In 2019
March 12, 2019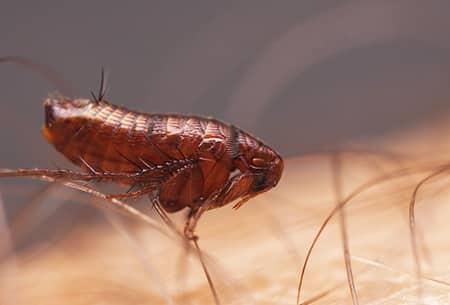 Did you know that each state has its own flea season? Here in Tulsa, Oklahoma, our flea season starts a little earlier and lasts a bit longer than in other states. Our flea season begins in March and does not end until sometime in December, when the weather begins to get colder. When flea season starts you will be fully aware of it, especially if your pet unwittingly carries them inside and you find yourself dealing with a full-blown infestation.
What is Attracting Fleas to Your Tulsa Home?
Because
fleas are pests
that require a host to survive, ask yourself some questions. What is attracting fleas to your property? What is attracting the creatures fleas infest to your property?
Most commonly in nature, fleas choose wildlife and rodents such as raccoons, mice, rats, squirrels, and other furry creatures as their hosts. This becomes a big problem when these creatures find some sort of value in or around your home.
Attractants for these animals include the following:
Available food sources.
Easy access to your home's interior.
Water build-up around your home.
Unprotected gardens.
Areas of harborage.
The Difficulty of Treating Fleas Alone
When fleas invade a home, they do not just stay on your pets. Although they do need blood meals to survive, they can go 100 days without one and will not risk death.
This becomes especially problematic
when they start jumping off your pets and begin to breed throughout your home.
Over-the-counter flea control may seem like a great option until you find that, after you have used them, fleas somehow are magically still around. On top of this, many store-bought pesticides can be harmful not only to the fleas in your home but to you and your family, as well. This isn't a risk any homeowner should have to take. It's why calling a professional is always your best choice when dealing with fleas.
Why Professional Flea Control is Worth It
Fleas are the last thing you want infesting your home. They bring with them a plethora of diseases, as well as parasites, which they can transmit to the people and pets they bite. For this reason, Montgomery Exterminating offers easy and fast treatments to
rid your home of fleas
. If you are looking for reliable and professional services, you have found it here with Montgomery. Don't hesitate to give us a call to learn more about what we can do to help you.