Why Mosquitoes Are Still Buzzing In Oklahoma
August 27, 2018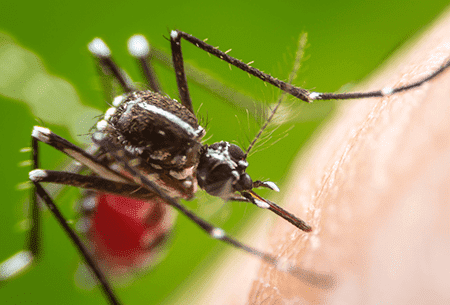 Still getting hit with heavy mosquito problems this August? Unfortunately, mosquito problems can continue on throughout the rest of the summer and even into the fall, so it's likely that the mosquito populations on your property won't be going away anytime soon. In addition, the warm climate in Oklahoma allows mosquitoes to remain active later into the year than in other areas as they thrive in these weather conditions. During the warm summer rains, the mosquitoes in Oklahoma hide in bushes and vegetation, under items in your yard, and even inside our homes! When they reemerge, they will begin congregating in the wet grasses and areas of standing water.
These little bloodsuckers annoy us by buzzing around in our ears and biting us and collect the blood they need to complete their reproduction process. Only the females collect blood, and when they do, they leave bumps that tend to become extremely itchy. Some people experience more swelling and itching from these bites than others. Mosquito bites may result in a secondary infection if the skin is broken due to excessive scratching.
The biggest problem with these pests is that they are known to transmit several harmful diseases. Mosquitoes are responsible for heartworm in dogs, and a plethora of other diseases in humans and animals alike. Some of the most common mosquito-borne illnesses in the United States include dengue fever, yellow fever, chikungunya, encephalitis, West Nile virus, and the Zika virus. These mosquito-borne diseases pose more and more serious health risks every year!
Although it is nearly impossible to get rid of all the mosquitoes on a property, there are steps that can be taken to limit the population and stop their reproduction process. Every homeowner in Oklahoma can do their part to help protect families, children, and the elderly from the dangers of mosquito bites.
So, what can we all do?
Wear light-colored, loose-fitting long sleeve shirts and long pants and apply effective bug repellent when spending time outdoors
Avoid spending time outdoors at dusk or dawn as these are the peak times for mosquito activity
Stay away from bushes and wet grass where mosquitoes may be hiding
Use fans to blow mosquitoes away from you while spending time on your porch
Eliminate mosquito breeding grounds by limiting the areas of standing water around your yard by keeping wheelbarrows, tools, and toys put away so they cannot collect water
The most important part of reducing the mosquito population in your yard is to call the professionals at Montgomery Exterminating. We offer seasonal mosquito treatments, that work to keep mosquitoes away in only three steps! It's as simple as inspecting your property, treating problem areas, and keeping the mosquitoes away! Once we are done, you can go out and enjoy your yard by playing, grilling, and spending time with your family and friends outdoors once again!
Contact us today for more information about our season mosquito treatments or our specific one-time control services for special outdoor events at Montgomery Exterminating!