Worst Pest Threats Facing Oklahoma Businesses This Fall
September 19, 2018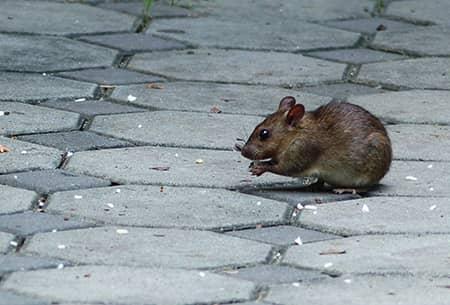 Pests and businesses just don't go together. It doesn't matter what size or how severe the infestation is, pests can be catastrophic for businesses. Contaminating or losing products, losing customers, damaging buildings, and hurting employees' health are all factors that can be a devastating blow to your commercial site. There are many pests that could pose a threat this fall. Let's take a look at the top pests to watch out for.
Rodents
With powerful incisors, rodents can do a lot of damage to property. Rats and mice are among some common rodents that will invade businesses this fall. They're able to gnaw through cables, pipes, wires, drywall, wood, etc. This is highly problematic and dangerous as it can cause unstable structures, allow other pests in, create water and mold issues, or even create a fire hazard. Not only do rodents cause structural and product damage, but they can contaminate products and food storage areas. They're known to transmit multiple diseases and bacteria. Ultimately, this could affect customers and employees alike. Rodent invasions are highly likely to happen in the fall as the weather cools, but can occur all year long.
Spiders
In Oklahoma, there are venomous and non-venomous spiders. Some spiders are a nuisance and leave webs in unwanted place, while others leave bites that require medical attention. Brown recluse spiders can cause fever, nausea, convulsions, muscle pain, and more. Black widow bites are among those that require medical attention as well. They can cause a fever and skin ulcerations that may take months to heal. No matter which type of spider you're dealing with, you don't want them affecting your business. If given the opportunity to get inside, spiders will. They can come in at any time during the summer, but the fall is a likely time as the weather begins to cool and they are looking for a place to dwell for the winter.
Cockroaches
Cockroaches are nasty pests that you don't want anywhere near your business. They can spread many types of viruses, bacteria, and parasites. They collect pathogens as they crawl through unsanitary places such as trash, sewage, and other filth. Not only are you in danger, but your employees and customers as well. Cockroaches are a serious pest capable of causing sale losses, lowering employee satisfaction, and potentially causing lawsuits. They enter buildings in search of food sources and will typically target moist, humid locations. Entering a building isn't difficult for them as they can compact their bodies and squeeze under doors and through cracks. They are also good hitch-hikers and can arrive in boxes, packages, or used furniture that's brought into the building.
Silverfish
Silverfish get their name from their appearance and fish-like movements. While they look dangerous, they actually pose no health threats and they don't bite. They still aren't a joy to have around since they can do some pretty devastating damage to products and personal items. These pests will enjoy chewing on wallpaper, photos, books, paper, upholstered furniture, and other household items. They'll also feed on human food such as sugar, coffee, and carbohydrates. Silverfish have a great habit of turning up in unwanted locations, such as clothing piles, storage boxes, and even in bedding. Like other pests, they will enter a building as fall comes and the weather cools. You'll find them in moist, humid locations such as kitchens, bathrooms, or basements.
The pests that could be entering your commercial site this fall are numerous, resulting in many unwanted stressors. Every business should have professional pest control in place. With each pest comes a different set of problems and potential risks. There's no need to worry about bad reviews or unhappy customers. Contact Montgomery Exterminating today to protect your business. When you sign up for commercial pest control, we will send highly trained, licensed professionals who will deliver the most effective pest management solutions to solve your pest problems. Don't let pests put a bad name on your commercial site. Contact Montgomery Exterminating to find out more.