You Can Have A Clean House & Still Have Cockroaches 
September 10, 2019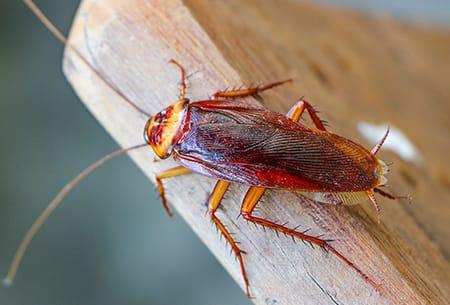 If you thought that just one species cockroach was bad, imagine living in a state where five different species of this destructive bug are present at the same time.
Unfortunately, Oklahoma offers just the right combination of heat, moisture, and comfy housing to attract several different kinds of cockroach, including the American, German, Brownbanded, Smokeybrown, and Oriental cockroaches. Despite the difference in names, some aspects of these insects will always stay the same: brown or grey body, about a half-inch long, and long, folded wings across their back.
Mostly active at night, cockroaches have a high reproductive rate, which is one of the reasons they're nearly impossible to eradicate. Dirty homes may attract cockroaches faster, but these bugs aren't picky about their living situations. If food, water, and shelter are present, cockroaches will be happy to move in.
As you know, having cockroaches around the house is less than desirable. They can cause allergic reactions and other health problems in children and adults and spread deadly strains of bacteria over the surfaces they crawl on. Worse, cockroaches can and will bite when they are threatened, increasing the chances for serious disease.
The Dirt About Cockroaches
Cockroaches are hard to get rid of yourself and why these insects have survived for such a long time. Below are some examples as to why they can be difficult to destroy.
If their hard shell didn't provide you a clue, cockroaches are very resilient. They can survive without their head for up to a week.

Don't assume tossing roaches into the toilet will do the trick. Cockroaches can take as long as 40 minutes before succumbing to the lack of air, giving them ample time to escape.

Cockroaches can adapt to over-the-counter pesticides, rendering the substances useless.
Cockroach infestations are serious and should be treated by an equally serious pest control company. If you suspect cockroach activity in your home, get in contact with a reputable exterminator like Montgomery Pest Control immediately.
Remove the Roaches with Montgomery
Cockroaches are tough pests to deal with and create several health and safety issues for homeowners everywhere. When you're ready to remove an infestation from your home, DIY methods simply won't work. The best way to ensure you get rid of the cockroach problem is to call the pest experts at Mongomery Exterminating, serving the greater Tulsa area for over 25 years.
We at Montgomery understand that the safety of your household is the most important thing on your mind. Reach out to us today for a free no-obligation inspection to assess your cockroach extermination options.