Pests Are Bad News For Businesses
It doesn't matter what type of industry, pests can be damaging and costly. Infestations of rats, roaches, and other pests may:
Damage facilities, equipment, and products

Result in health and safety violations, fines, and the shutdown of your business by regulatory agencies

Lower employee morale

Scare away current and potential customers

Tarnish your brand
Commercial pest control eliminates and prevents infestations that lead to the issues mentioned above. It is essential for any company that wants to succeed. If you're looking for a commercial pest management provider that will work closely with you to develop a program specifically for your business, contact Montgomery Exterminating of Tulsa today.


Customized Solutions For Your Business And Your Industry
Serving Oklahoma businesses since 1989, Montgomery Exterminating provides solutions for businesses across a variety of industries, including:
Why Choose Montgomery Exterminating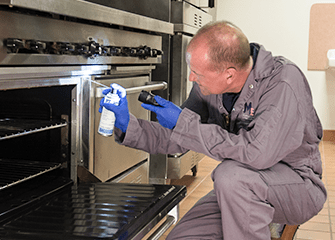 Our Team
Our pest control technicians are highly trained, licensed professionals that are committed to solving your pest problems, and our office staff provide outstanding customer service. Additionally, our technicians train throughout the year to ensure that we deliver the latest, most effective pest management solutions.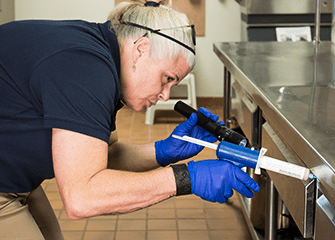 Our Expertise
With over 70 years of combined industry experience, we know pests. More importantly, we have the tools and knowledge to stop pests that disrupt operations and threaten companies' reputations.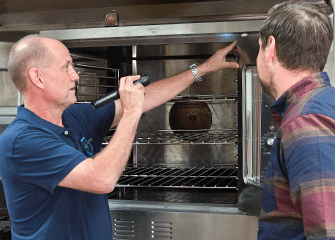 Our Commitment
At Montgomery Exterminating, we are committed to our customers and to delivering services that meet and exceed their expectations and that pass their industry's regulations.
Schedule Your Free Estimate
Complete the form below to schedule your no obligation inspection
Why Businesses In Tulsa & Surrounding Areas Need Professional Pest Control
As a business owner, it's very tempting to want to forge your own way without outside help. After all, if you didn't, you probably wouldn't want to run your own business. However, pests are a problem that most business owners simply aren't equipped to deal with effectively.
Pests in commercial settings bring all the same problems they bring into homes but with the additional risk of damaging your reputation. Unfortunately, effective pest control can be a full-time job by itself if you're a business owner working on your own.
Professional pest control from Montgomery Exterminating offers ongoing pest protection from some of the most common household pests found in the Tulsa area or Grand Lake region. We have experience protecting businesses from common pests, including:
Termites

Rodents

Mosquitoes

Fleas & Ticks

Spiders

Ants

Boxelder bugs

Crickets

Cockroaches

And more!
While some pests are more destructive than others, any pest can put a damper on a great business. At Montgomery Exterminating, we approach every commercial pest situation on an individual level, assessing its unique situation in order to determine the best potential service strategy to employ.
How Montgomery Exterminating Stops Pest Problems
Commercial pest control from Montgomery Exterminating is a comprehensive system of customized pest control treatments designed to accommodate the specific needs of your business or commercial property. In addition to coverage from typical problematic pests, we feature a number of specialized services built to keep you protected from the worst of the worst of the pest world.
Termites are one of the most destructive pests on earth, costing business owners big by literally eating them out of business. We neutralize termites using an eco-friendly termite control solution: the Sentricon System. Sentricon uses baits that are picked up by foraging termites and brought back to be dispersed throughout the colony, eliminating the entire infestation at once. By strategically planting Sentricon bait stations around your property, we can create a protective barrier to protect your investment from termite damage.
Mosquitoes are another pest that can make life miserable for businesses and shared living spaces. Montgomery Exterminating can protect your commercial property with ongoing seasonal mosquito treatments to put a stop to their buzzing and biting. If you've got an event coming up but you're worried about mosquitoes being an issue, we offer one-time treatments to ensure your special day goes off without a hitch!
Rodents are a business owner's worst nightmare. Rats and mice are unsanitary and destructive, and will understandably send customers or tenants running. Commercial rodent control is a thorough and extensive process designed to ensure all rodent activity on the premises is eliminated, employing follow-up services to make certain the job is done.
Protect Your Tulsa Business Today
Montgomery Exterminating is a driven and dedicated team of Tulsa locals that pride ourselves on our outstanding customer service, loyalty and commitment to the people we serve, and our ability to customize our service to give Tulsa properties exactly what they need to become pest-free.
Don't let pests put your business or commercial property at risk. Get ongoing pest protection in Tulsa and the surrounding areas from the Experts at Montgomery Exterminating.
Montgomery Exterminating Blog
Read the latest blog posts for more information about pests in Oklahoma.