What do crickets look like?
What a cricket looks like depends on the exact species. In our area, some of the more common species are the house cricket, field cricket, and camel cricket.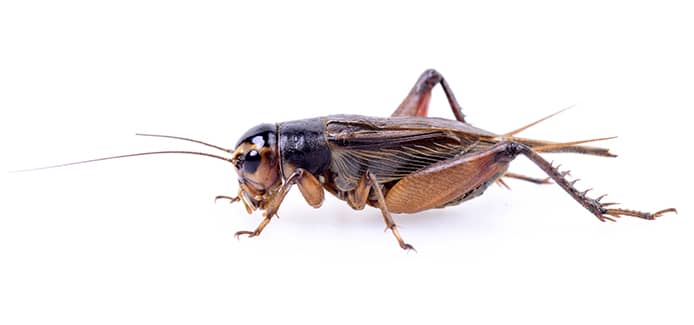 House Cricket
The house cricket is one of the most common species of cricket found invading homes and other buildings. They are most often identified by the loud chirping sounds the males create by rubbing their front wings together. House crickets are yellowish-brown in color and have three dark bands going across the head.
Field Cricket
As their name suggests, field crickets are considered to be agricultural pests and have the potential to destroy farm crops including alfalfa, wheat, oats, and many vegetables. Field crickets have a stout body, large powerful hind legs which allow them to jump great distances, and antennae that are longer than their body. Female field crickets are equipped with a distinctive long ovipositor located at the tip of the abdomen that they use for laying eggs. These crickets are black or brown in color.
Are crickets dangerous?
Crickets are typically considered to be nuisance pests when found living inside. They are not known to cause any health risks to people and they do not bite or sting. Crickets can, however, cause damage to the things that you have in your home. They tend to chew holes in curtains, upholstered furniture, clothing, wallpaper, and some smaller-sized houseplants. In addition to the damage that these pests may cause, some species insistent chirping may become extremely annoying to some homeowners.
Why do I have a cricket problem?
Crickets are typically found living outside, hiding in dark damp places. Some things that can attract crickets to your property include rotting logs, fallen trees, stones, piles of wood, and landscaping ties. If the weather becomes too hot or dry for them to live comfortably outdoors, crickets that are living near your home may decide to come inside, seeking moist, damp conditions. Crickets may also move indoors during the slightly cooler winter months. Areas of the home that crickets typically invade include the basement, crawl spaces, bathrooms, underneath of sinks, and laundry rooms.
How do I get rid of crickets?
For effective cricket control, contact Montgomery Exterminating. Our Tulsa pest control technicians have the knowledge and experience to identify the species of cricket that is infesting your space and implement a treatment plan that will result in cricket elimination. Reach out today to learn more about our residential and commercial pest control services.
Schedule Your Free Estimate
Complete the form below to schedule your no obligation inspection
Montgomery Exterminating Blog
Read the latest blog posts for more information about pests in Oklahoma.