Eucha, OK Pest Control
Protecting Eucha Homes & Businesses Since 1989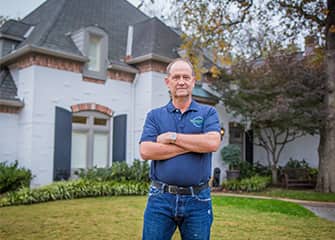 Eucha is a small rural community located in Delaware County, OK, just north of Lake Eucha. The beautiful outdoor spaces found in Eucha not only attract people but a variety of pests. To protect people, homes, and businesses in Eucha, Montgomery Exterminating offers modern, and affordable pest control services. Since 1989 our family owned and operated company has been committed to providing exceptional pest control services throughout the Tulsa and Grand Lakes Regions.
Residential Pest Control In Eucha, OK
Protect your family from pests with the help of a home pest control plan specifically designed to meet the unique needs of Oklahoma residents. Our professionals are local and understand the unique pests problems our customers face each day. To protect your home from invasive pests throughout the entire year we have developed three home pest control plans to choose from.
Home Bronze - pest control

Home Silver - pest control and termite control
Home Gold - pest control, termite control, and Outdoor Living - seasonal mosquito reduction and outdoor flea and tick control
To discover which plan is the right fit for your home, family, and budget, reach out to Montgomery Exterminating today.
Guide To Avoiding Problems With Rodents In Eucha, OK
Rodents are common household invaders that cause big problems for homeowners. To help keep rodents out of your Eucha home we want to offer the following helpful tips:
Keep your grass cut short and eliminate overgrown areas on your property; this will give rodents fewer places to hide.

Get rid of wood piles, rock piles, and construction materials from your property where rodents can hide.
Trim tree limbs, bushes, and shrubs back away from the outside of your home.
Place trash stored outside in containers with locking lids
Compost bins should have locking lids.
Remove water sources in and around your home.
Inspect the exterior of your home, sealing all possible entry points.
We can work together to protect your Eucha home from rodents through our targeted one-time service or one of our monthly home pest control plans. Call us today to learn more about our rodent control services!
Commercial Pest Control In Eucha, OK
Montgomery Exterminating has over 70 years of experience in providing Oklahoma businesses with effective pest management. We offer customized commercial pest solutions that eliminate current pest infestations and prevent future problems with insects, rodents, and other pests. Our pest control technicians are highly trained and licensed professionals. They are committed to solving your business's pest problems and surpassing your specific industry's regulations. Contact Montgomery Exterminating today to learn more about working together to protect your business and its reputation from damaging and destructive pests.
Damage Termites Cause In Eucha, OK
Outside, termites live in large underground nests. However, they often find their way inside of homes and other buildings while out foraging for food sources. Termites attack structural wood, tunneling through and eating it from the inside out. Over time the damage they cause can become extensive and very costly to repair. Understanding the damage termites cause is essential. Signs you may have a termite infestation are:
Sagging floors that may feel "spongy"

Blistering wallpaper or paint

Doors and windows that no longer open or close properly

Drooping ceilings
Another common sign of a termite infestation is witnessing a termite swarm. Termite swarms occur when winged reproductive members swarm from a mature colony to mate and start a new colony. Observing winged termites may indicate that termites are living on your property or have found their way into your home.

To protect your home from termites partner with Montgomery Exterminating. We have the termite control services needed to solve and prevent infestations.
Schedule Your Free Estimate
Complete the form below to schedule your no obligation inspection
Montgomery Exterminating Blog
Read the latest blog posts for more information about pests in Oklahoma.