Fair Oaks, OK Pest Control
Protecting Fair Oaks Homes & Businesses Since 1989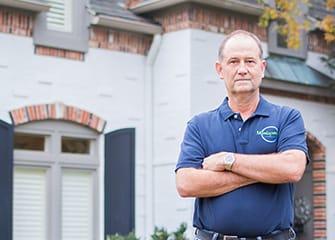 Pests, like insects and rodents, can, unfortunately, become a problem for anyone that owns property in Oklahoma. If pests are a problem in or around your Fair Oaks home or business, turn to the local pest control experts at Montgomery Exterminating. Since 1989 we have dedicated ourselves to protecting Tulsa area homes and businesses from our area's toughest pests. We offer a variety of residential and commercial pest control services that will meet the needs of any Fair Oaks resident. To learn more about our exceptional pest control solutions, reach out to Montgomery Exterminating today.
Residential Pest Control In Fair Oaks, OK
Rodents, ants, spiders, fleas, ticks, mosquitoes, and other common household pests are no match for Montgomery Exterminating. We have developed pest control plans that meet the specific needs of Tulsa area homeowners. Our family-owned and operated company wants to get pests out of your home and keep them out for good! Let's work together to protect your family from the dangers and damage household pests can create. Our three, guaranteed home pest control plans are as follows:
Home Bronze - Pest Control Services

Home Silver - Pest Control Services and Termite Control

Home Gold - Pest Control Services, Termite Control, and Outdoor Living (seasonal mosquito reduction and flea and tick control)
To learn more about how our home pest control plans work to keep pests out of your home and away from your family all year long, give us a call today.
Commercial Pest Control In Fair Oaks, OK
Montgomery Exterminating protects a variety of Oklahoma businesses from pests including shopping centers, restaurants, office buildings, warehouses, schools, hospitals, and more! To protect commercial properties from pests, we offer customized solutions that eliminate specific pest pressures. Our highly trained technicians will provide the newest and most effective services necessary to meet your Fair Oaks business's pest control needs. With over 70 years of experience in the pest control industry, our commercial pest control services will protect your reputation, facility, equipment, customers, and employees from pests. To schedule your free estimate, get in touch with Montgomery Exterminating today.
Guide To Avoiding Fleas & Ticks In Fair Oaks, OK
Fleas and ticks are parasitic pests that feed on the blood of wild animals, domestic pets, and people. They are often introduced onto our properties by wild animals where they then find their way onto us and our pets, and eventually into our homes. Fleas can live and breed successfully both inside and out, while ticks are mainly considered an outdoor pest. To help keep your property from becoming home to large populations of fleas and ticks, we want to offer the following tips:
Partner with your pet's veterinarian and place them on a year-round flea and tick treatment.

Regularly groom and bathe pets.

Create a barrier between any wooded areas and your lawn.

Keep your lawn cut short.

Cut back or remove overgrown vegetation from your property.

Inspect yourself and pets for fleas and ticks after spending time outside.

Regularly vacuum your home, wash pet bedding, and wash your linens.

Do not purchase used furniture or rugs for your home—they could be infested with fleas or their eggs.
If fleas or ticks ever become a problem on your Fair Oaks property, Montgomery Exterminating can help. Our flea and tick treatment will eliminate fleas from your home and fleas and ticks from your yard. Contact us today to learn more about protecting your family from biting fleas and ticks.
3 Things Every Fair Oaks, OK Resident Should Know About Mosquitoes
Montgomery Exterminating wants to help protect you and your family from disease-spreading mosquitoes by providing three facts you should know about these annoying and dangerous pests.
It is only the female mosquito that bites. She needs the protein found in blood to create viable eggs. Both females and males feed on plant nectar as their primary food source. Properties with lots of flowering vegetation will attract mosquitoes.

Mosquitoes are most active at dusk and dawn. During the heat of the day, they hide under trees, overgrown vegetation, tall grasses, and along fence lines and road ditches.

Mosquitoes are drawn to some people more than others. Mosquitoes are attracted to people who are generating a lot of heat; people who are working out, sweating, and pregnant women can be mosquito magnets. Mosquitoes are also more attracted to people who are drinking alcohol. Additionally, mosquitoes are drawn to brighter, lighter-colored clothing more than darker clothing.
To protect your family and pets from these biting pests and to make your yard a place you can enjoy anytime, call Montgomery Exterminating today. We offer the seasonal mosquito control services needed to reduce mosquito numbers significantly. To learn more, give us a call!
Schedule Your Free Estimate
Complete the form below to schedule your no obligation inspection
Montgomery Exterminating Blog
Read the latest blog posts for more information about pests in Oklahoma.