Fort Gibson, OK Pest Control
Protecting Fort Gibson Homes & Businesses Since 1989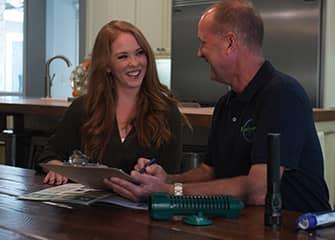 To help maintain the pest control needs of the residents in Fort Gibson, OK, the pest professionals at Montgomery Exterminating offer modern, affordable, and dependable pest control options. Since 1989 Montgomery Exterminating, a family-owned and operated company, has been committed to maintaining pest-free households and businesses throughout Oklahoma. Keep pests out of your Fort Gibson, OK residential or commercial property, that have the potential to spread disease, create damage, and become a big nuisance, with help from the professionals at Montgomery Exterminating. Reach out to us today to learn more about our effective, local pest control solutions.
Residential Pest Control In Fort Gibson, OK
To help meet your home 's specific pest control needs and ensure that your Fort Gibson property becomes and remains free of insects and rodents, Montgomery Exterminating has developed three different home pest control plans for homeowners to choose from. At Montgomery Exterminating, we focus on preventing pests from getting inside by focusing treatment on the exterior of your home. Our professionals also provide interior treatment on an as-needed basis. Our most comprehensive residential pest control plan is our Home Gold plan. The Home Gold Plan offers coverage for over 20 pests, service every month, exterior service every visit, interior service upon request, cobweb removal, termite control with the Sentricon® System with Always Active™, seasonal mosquito and tick reduction services, and the peace of mind to know that this plan and all our other residential pest control plans are guaranteed. To learn more about our residential pest control programs, give us a call today.
Keep Rodents From Invading Your Fort Gibson, OK Property
Keep rodents out of your Fort Gibson home or business with help from the professionals at Montgomery Exterminating and comprehensive rodent control services. Rodents can squeeze their bodies through the tiniest of openings in order to gain access into any home or business. Preventing rodent infestations can be a difficult task, but with our help, it won't be! Our rodent control process involves our professionals completing a thorough inspection of your property to determine if rodents are present. If they are, then determining where and how they are entering. Our professionals then tailor services specific to your property to eliminate any rodents living in your home or business completely. To make sure that rodents stay out of your commercial or residential property long into the future, put into place Montgomery's monthly rodent control service. Homeowners may choose to control both insects and rodents through our year-round pest control plans. Call us today to learn more about our quality rodent control services.
Commercial Pest Control In Fort Gibson, OK
At Montgomery Exterminating, we are pleased to offer customized solutions to control pests in a wide variety of Oklahoma businesses including shopping centers, restaurants, warehouses, office buildings, schools, and hospitals. All our highly trained and dedicated commercial pest professionals are committed to solving your facility's pest problems and exceeding industry regulations. Trust our over 70 years of combined experience to provide your business with the effective pest-management tools needed to maintain a pest-free commercial facility. By partnering with Montgomery Exterminating, you can prevent valuable equipment and inventory from being destroyed, protect the structural integrity of your facility, prevent electrical fires and water damage, and prevent the loss of customers and revenue. To learn more about protecting your Fort Gibson business from insects, rodents, and other pests, get in touch with Montgomery Exterminating today.
Tips To Avoid Termite Damage In Fort Gibson, OK
Termites are moisture-seeking pests, they are attracted to homes and properties with wood that is decaying or has been damaged by water in order to invade, tunnel through, and feed their colony. To make your property as unattractive as possible to termites, it is a good idea to reduce moisture levels in and around your home, along with taking some other easy precautions.
Regularly check that gutters are free of debris such as sticks, bird nests, and leaves; and that the rain gutters are working to direct water away from the exterior of your home.

Trim overgrown shrubs and bushes back away from the exterior of your home in order to allow the sun to hit the ground around your home's foundation to help keep the soil dry.

Repair any leaky hoses, faucets, or pipes inside and outside your home.

Remove tree stumps, fallen trees, or downed tree branches from your property.

Inside your home, remove structural wood that has been damaged by water and replace it with sound wood.

Use a dehumidifier in the basement and make sure that crawl spaces are properly ventilated.

Inspect your home's foundation, sealing any cracks and crevices to help prevent termites from finding their way in.
At Montgomery Exterminating, we protect Fort Gibson properties from termites through our effective and eco-friendly termite control solutions. Our termite control services include a thorough inspection, the installation of Sentricon® with Always Active™, the elimination of the entire termite colony from your property, and regular monitoring of Sentricon® with Always Active™ bait stations to prevent future termite activity. Contact us today to learn more about protecting your Fort Gibson, OK property from termites and their damage.
Schedule Your Free Estimate
Complete the form below to schedule your no obligation inspection
Montgomery Exterminating Blog
Read the latest blog posts for more information about pests in Oklahoma.