Grove, OK Pest Control
Protecting Grove Homes & Businesses Since 1989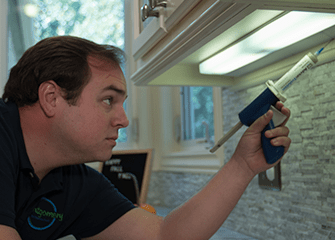 Grove, Oklahoma, ideally located on Grand Lake, provides its fortunate residents with ample opportunities to boat, water ski, fish, swim, hike, and sail. Grove is an outdoor enthusiast's paradise. To help maintain the paradise-like atmosphere in Grove, the pest professionals at Montgomery Exterminating offer the services needed to stop pests from causing damage to property, spreading disease, and putting a damper on day- to-day life. At Montgomery Exterminating, we are excited to offer our customers with affordable, dependable, tailored, and effective pest management solutions. To learn more about our family-owned and operated business, and how we can work together to protect your Grove residential or commercial property from pests, give us a call today.
Residential Pest Control In Grove, OK
Why should you implement a residential pest control program in your Grove home? The better question is, why wouldn't you? Continuous, year-round pest control is the most effective way to protect your home, family, and sanity from being affected by pests. Pests can enter homes in many ways: through tiny cracks and crevices, inside packages from the store, on you or your pets, and more. The best solution to pest problems is a proactive solution. At Montgomery Exterminating we offer proactive residential pest control plans that will keep your Oklahoma home pest free through spring, summer, winter and fall! Our three residential pest control plans are as follows:
Home Bronze: This plan offers coverage for over 20 pests, service every month, exterior service every visit, interior service upon request, cobweb removal, and guaranteed protection.

Home Silver: This plan has everything in the Home Bronze plan, but also includes the added benefit of termite control through the Sentricon® System with Always Active™.

Home Gold: This plan has everything in the Home Silver plan, with the added benefits of seasonal mosquito reduction and seasonal outdoor flea and tick control. This is our most comprehensive protection plan against pests.
Give us a call to learn more about each plan, and to discover which plan is the right fit for your Grove home, family and budget.
Guide To Limiting Mosquito Exposure In Grove, OK
Mosquitoes are a tough pest to avoid, they are found living in most outdoor spaces, and have the potential to travel a distance in order to find food and suitable breeding locations. The best way to prevent yourself and your family from being bitten and annoyed by these potentially disease-spreading pests is to limit your exposure to them. The following tips may help you limit your exposure to mosquitoes.
Wear mosquito repellent when spending time outdoors, especially in wooded areas or in areas of overgrown vegetation.

It is a good idea to wear light-colored clothing when spending time outdoors, light-colored clothing is less noticeable to mosquitoes than darker-colored clothing.

Mosquitoes most active times of day are dawn and dusk. Avoid the outdoors as much as possible during these times.

Mosquitoes are attracted to people who are drinking alcohol. At the next BBQ, it may be beneficial to pick something other than an alcoholic beverage.

Mosquitoes are attracted to areas of standing water. Females lay their eggs on top of standing water. Getting rid of standing water can greatly reduce mosquito activity.

Put into place a seasonal mosquito control program from the mosquito control experts at Montgomery Exterminating.
To control mosquito numbers on your Grove property, our seasonal mosquito service starts in May and continues monthly through September, which is the peak season for mosquito activity. This service can be completed on its own, or as part of our Outdoor Living Program, which protects your property and family from a variety of outdoor pests. To learn more about limiting your family's exposure to mosquitoes, with the help of Montgomery Exterminating, give us a call today.
Commercial Pest Control In Grove, OK
Putting into place a professional pest control program for your Grove business is important for many reasons. One of the best reasons is this; when you let pest professionals take care of pests that are plaguing you, you get to concentrate on running a successful pest-free business! Professional pest control will also prevent pests from damaging your business' reputation, lowering employee morale, and driving away customers. At Montgomery Exterminating, we are pleased to offer customized solutions, which control pests in a wide variety of Oklahoma businesses, including shopping centers, restaurants, warehouses, office buildings, schools, and hospitals. We are committed to solving your facility's pest problems and even exceeding your specific industry's regulations. Trust our over 70 years of combined experience to provide your business with the effective pest management tools needed to maintain a pest-free commercial facility. Call us today to learn more!
Protect Your Grove, OK Property From Termite Damage
Termites are not a pest you want to have a "wait-and-see attitude" with. If you wait for termites to invade your home, all you are going to "see" is your savings account dwindling while you repair the damage caused to your home. At Montgomery Exterminating, we want to help you protect your Grove property from being damaged by termites through an effective, eco-friendly, and long-term termite control solution. To protect your property from wood-damaging termites, our professionals will:
Provide a thorough inspection of your property.

Install Sentricon® System with Always Active™ bait stations around your home. This system is tough on termites but not tough on the environment.

Provide the complete elimination of termites from your home and property.

Continuously monitor the environmentally friendly Sentricon® with Always Active™ bait stations on your property to prevent future termite activity.
Begin protecting your Grove property from wood-eating termites by giving Montgomery Exterminating a call today and scheduling an inspection.
Schedule Your Free Estimate
Complete the form below to schedule your no obligation inspection
Montgomery Exterminating Blog
Read the latest blog posts for more information about pests in Oklahoma.