Ketchum, OK Pest Control
Protecting Ketchum Homes & Businesses Since 1989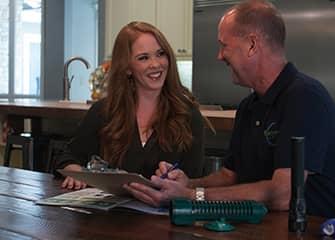 To guard your Ketchum, Oklahoma property against the variety of pests that also live throughout eastern Oklahoma, partner with the local pest control experts at Montgomery Exterminating. For over 25 years our family owned and operated company has been dedicated to protecting properties from common household invaders, termites, fleas & ticks, gophers and moles, and more. Our professionals are experienced and committed to providing tailored pest management solutions that are modern, effective, and dependable. To keep pests out of your Ketchum, OK residential or commercial property, call Montgomery Exterminating today and put into place a pest control program that will provide long-term relief.
Residential Pest Control In Ketchum, OK
At Montgomery Exterminating, we offer proactive residential pest control packages that will keep your Oklahoma home free of pests throughout the entire year. Pests never stop trying to take advantage of the food, water, and shelter sources found in our yards and homes, which is why year-round pest control is the best defense there is to combat insects, rodents and more. We offer three residential pest control packages:
Home Bronze: This plan offers coverage for over 20 pests, service every month, exterior service every visit, interior service upon request, cobweb removal, and guaranteed protection.

Home Silver: This plan has everything the Home Bronze plan has but with the added benefits of termite control through the Sentricon® System with Always Active™.

Home Gold: This plan has everything the Home Silver plan has but with the added benefits of seasonal mosquito reduction and seasonal outdoor flea and tick control. This is our most comprehensive protection plan against pests.
At Montgomery Exterminating, we have the tools, knowledge, and advanced technology needed to handle any pest problem. To learn more about protecting your home and family from the many pests that also reside in Ketchum, reach out to our friendly experts today.
Protect Your Ketchum Lawn From Gophers & Moles
Gophers and moles are a big problem for property owners in Ketchum, and while these two animals are different species, they have one thing in common, they both cause significant damage to lawns and outdoor landscaping. Gophers feed on grass, roots, and bulbs causing unsightly damage. Moles tunnel underground, searching for earthworms, causing small cave-ins, dead grass, and damage to flowers and other landscaping. Both are frustrating pests to deal with, but with the help of our experts, we can work together to rid your property of these destructive pests. To eliminate gopher and mole activity, we provide the following services:
A thorough inspection to identify whether moles or gophers are present on your property, the amount of damage they have caused, and to develop a tailored plan of action.

The removal of gophers and/or moles using baits or other techniques, depending on the unique infestation.

A follow-up visit to make sure the infestation has been completely eliminated from your property.

If you choose our monthly service option, we return each month to ensure that the gophers and/or moles don't return.
To get started removing destructive moles or gophers from your property, contact Montgomery Exterminating today.
Commercial Pest Control In Ketchum, OK
Pest infestations are challenging for any business. Pests can cause loss of business, damage your business's reputation, scare away customers, lower employee morale, cause failed health inspections, and damage the structure of your facility. Why risk this when there is a simple solution; partner with the commercial pest control experts at Montgomery Exterminating. We serve a wide variety of businesses and industries including shopping centers, restaurants, office buildings, daycares, schools, country clubs, warehouses, and hospitals. To protect your Ketchum business from pests, we offer customized pest solutions to eliminate current pest infestations and prevent problems with pests in the future. Our pest control technicians are highly trained, licensed professionals that are committed to solving your pest problems, surpassing your specific industry's regulations, and providing you with the peace of mind to know that pests won't become a problem in the future. To learn more about our highly effective commercial pest control solutions, give us a call today!
Is There Anything I Can Do About Fleas In Ketchum, OK?
Fleas are commonly associated with pet owners, but the truth is, fleas can find their way into any home. Fleas are parasitic pests that feed on the blood of warm-blooded animals. This means that a flea-infested squirrel, mouse, raccoon, or visiting cat or dog that travels across your property can introduce them into your yard. Once on your property, it is only a matter of time before they could jump onto your pets or you and then get into your home. Fleas are difficult to control and eliminate, but not impossible, especially when you partner with the flea control experts at Montgomery Exterminating. We provide the services needed to eliminate fleas on your property and inside your home. At Montgomery Exterminating, we successfully eliminate problems with fleas on Ketchum properties through our flea and tick services. We first provide a thorough inspection to determine the extent of the infestation and potential sources of the infestation. Next, we treat affected areas in your home to eliminate fleas. Finally, we treat your yard with a product to eliminate adult fleas and to halt flea development, preventing larvae from being able to develop into adults. This program can be completed on its own or as part of our Home Gold package which works to control common household pests, termites, and outdoor pests including fleas. To learn more about protecting your home, family, and pets from invasive fleas, give us a call at Montgomery Exterminating today.
Schedule Your Free Estimate
Complete the form below to schedule your no obligation inspection
Montgomery Exterminating Blog
Read the latest blog posts for more information about pests in Oklahoma.