Oologah, OK Pest Control
Protecting Oologah Homes & Businesses Since 1989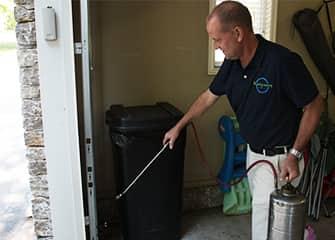 Oologah is a small rural town located in Roger County, Oklahoma. Oologah is a family-friendly community that is unfortunately home to not just great people, but a variety of insects, rodents, and other pests. To protect the homes and businesses located in Oologah from pests, Montgomery Exterminating offers local, modern, and affordable pest control services. Since 1989 our family-owned and operated company has been committed to maintaining pest-free households and businesses throughout Oklahoma. To help keep pests, including wood-eating termites, out of your Oologah, OK residential or commercial property, partner with Montgomery Exterminating!
Residential Pest Control In Oologah, OK
Montgomery Exterminating offers three different residential pest control plans for our homeowners to choose from: Home Bronze, Home Silver, and Home Gold. We want to make protecting your home and family from destructive and dangerous pests as easy and affordable as possible. Our Home Gold plan is our most inclusive plan and it provides superior protection. The Home Gold plan offers:
Coverage for more than 20 pests

Service every month

Exterior service, and interior service at your request

Cobweb removal

Guaranteed protection

Termite control through the installation of the Sentricon® System with Always Active™

Seasonal mosquito reduction

Outdoor flea and tick control

Guaranteed protection
Call us today to learn more about implementing one of our residential pest control plans or to request a free estimate.
Guide To Rodent Control In Oologah, OK
To keep rodents out of your Oologah home, we have developed our Monthly Rodent Control Service. Our professionals will come to your home or business and complete a thorough inspection of your property to determine if rodents are present and where and how they are entering. We then tailor services that are specific to your property to eliminate rodents living in your home or business completely. In addition to our professional services, doing the following around your home can help to keep rodents out.
Block all entry points in the foundation.

Seal entry points around utility wires, cables, and plumbing.

Replace damaged screens, vents, soffits, and chimney covers.

Take out your trash regularly and keep outside trash cans covered tightly.

Use weather-stripping and door sweeps.

Keep firewood stored at least 20 feet away from the house.
Our homeowners can choose to control both rodents and insects through our year-round pest control plans. Call us today to learn more!
Commercial Pest Control In Oologah, OK
Don't give pests the option of invading your Oologah commercial property for another day, partner with the area's commercial pest control experts at Montgomery Exterminating. We guard a wide variety of businesses and industries including shopping centers, restaurants, office buildings, daycares, schools, country clubs, warehouses, and hospitals from pest problems and dangers. Our customized pest solutions eliminate current pest problems and provide the peace of mind to know that there is a barrier of protection in place against future infestations. Our highly trained, licensed professionals are committed to solving your pest problems while surpassing your specific industry's regulations. To learn more about our customized commercial pest control solutions, give us a call today!
Protect Your Oologah, OK Property From Termites
Protect your Oogolah home from wood-eating termites with the help of Montgomery Exterminating. We are one of only 8 pest control companies in Oklahoma authorized by Dow AgroSciences LLC to install the Sentricon® System with Always Active™. Choosing Sentricon® with Always Active™ means that there are no chemicals injected into the ground and no drilling or trenching. Instead, bait is placed in stations which are discreetly placed around your property. After Sentricon® with Always Active ™ is installed, it begins to immediately work, quickly getting rid of the current infestation and offering continuous, year-round protection against future infestations. Our termite control service can be completed on its' own or it can be bundled with one of our year-round home pest control programs to provide you with the most comprehensive protection possible for you home. To learn more about guarding your home and bank account against damaging termites, reach out to Montgomery Exterminating today.
Schedule Your Free Estimate
Complete the form below to schedule your no obligation inspection
Montgomery Exterminating Blog
Read the latest blog posts for more information about pests in Oklahoma.