Owasso, OK Pest Control
Protecting Owasso Homes & Businesses Since 1989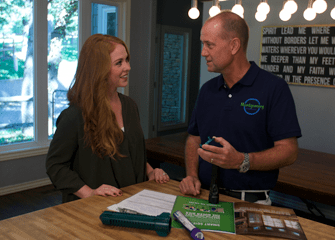 Owasso, OK is a northern suburb of Tulsa that is well-known for its beautiful scenery, thanks to its ample lakes, hills, and green vegetation. Along with helping people thrive, the plentiful outdoor spaces also provide the perfect environment for insects, rodents, and other critters to live, breed, and feed. To keep pests out in nature and away from Owasso homes or business, the pest professionals at Montgomery Exterminating have developed top-of-the-line, progressive pest control services that are able to meet the needs and budget of any of our customers. We are a family owned and operated company that has been protecting homes, businesses, and people from pests since 1989. As one of only eight pest control companies in Oklahoma authorized by Dow AgroSciences LLC to install the Sentricon® System with Always Active™, we can protect Owasso properties from termites and a wide variety of other common invaders. Take the time today to learn more about Montgomery Exterminating and our industry-leading pest control services!
Residential Pest Control in Owasso, OK
At Montgomery Exterminating we are dedicated to protecting local homes and the families living inside of them from the pests that are common to our area. We want to protect your home from damages and your family from the health risks associated with insects and rodents living inside your Owasso home. Each of our guaranteed year-round home pest control options offers customers with excellent pest control and superior customer services. Our Home Gold plan is our most comprehensive and offers customers with service visits every month, exterior service every month, interior service upon request, coverage for over 20 pests, termite control, seasonal mosquito reduction, seasonal outdoor flea and tick control, and more! To learn more about this plan or our other highly effective home pest control plans (Home Bronze, Home Silver) get in touch with us today.
Mice Prevention Tips in Owasso, OK
To protect your property from invasive, dangerous, and damaging rodents, contact our professionals at Montgomery Exterminating to come to your property and complete a thorough inspection of your property to determine if in fact, rodents are present, and if so, how they are getting inside. Our professionals will then tailor services that are specific to your property to ensure that any rodents currently living in your home or business are completely eliminated from your property. To ensure that rodents stay out of your Owasso home for good, put into place our rodent control service. Here are some tips you can use to help keep rodents out of your Owasso home:
Inspect the exterior walls and foundation of your home, sealing any small cracks and gaps found.

Make sure that any spaces found around windows are caulked and that exterior doors have weather stripping installed on them.

Remove trash from your home on a regular basis, placing it in outdoor trash cans that have tight-fitting lids and that are stored a distance away from the outside of your house.

Keep clutter to a minimum in storage areas, clutter gives mice more options to live and hide in unnoticed.

Store food in the refrigerator or in air-tight containers, never out in the open.
If rodents have become problematic in your home give us a call to schedule an inspection!
Commercial Pest Control Services in Owasso, OK
To protect your Owasso business, customers, employees, and reputation from being adversely affected by roaches, rodents, ants, and other pests, turn to the Oklahoma commercial pest control experts at Montgomery Exterminating. Montgomery Exterminating offers tailored solutions to control pests in a wide variety of industries. We are committed to solving your facility's pest problems and surpassing your business' specific industry regulations. Reasons to choose Montgomery Exterminating for your business's pest control needs include:
We have over 70 years of combined experience.

Our pest control technicians are highly trained and licensed, and are continuously being educated throughout the year in the most modern and effective pest solutions.

We are a local pest control company that has a thorough understanding of local Oklahoma pests.

Montgomery Exterminating is committed to offering services that meet each of our commercial customers' unique needs.
Protect Your Owasso, OK Home from Termites
The best way to protect your Owasso home from being invaded by, and ultimately damaged by, wood-eating termites is to partner with Montgomery Exterminating before the termites invade. At Montgomery Exterminating we partner with the number one brand of termite protection- Sentricon® System with Always Active™. By choosing this method of termite control there will be no chemicals injected into the ground, and only a few grams of bait is required. The bait is placed in the stations, which are discreetly placed around your property. After Sentricon® with Always Active™ is installed, it begins to work immediately, quickly and successfully getting rid of termites in your home or on your property, and offering continuous year-round protection against future infestations. Our termite control service can be completed on its own or it can be bundled with one of our year-round home pest control programs to provide you with the most comprehensive protection possible for your home. Give us a call today to learn more.
Schedule Your Free Estimate
Complete the form below to schedule your no obligation inspection
Montgomery Exterminating Blog
Read the latest blog posts for more information about pests in Oklahoma.