What do rice weevils look like?
Rice weevils only grow to about 1/10th of an inch in length and their distinctive "snouts" take up about 1/3 of their total body length. Rice weevils are reddish-brown with four spots that are yellow or reddish in color on the corners of their forewings. Rice weevils have fully developed wings and are capable of flight. Another distinctive feature is their thorax which is densely pitted except for a smooth strip that runs down the middle of their back. Their larvae are legless and have a chubby body with a dark head capsule and cream-colored body.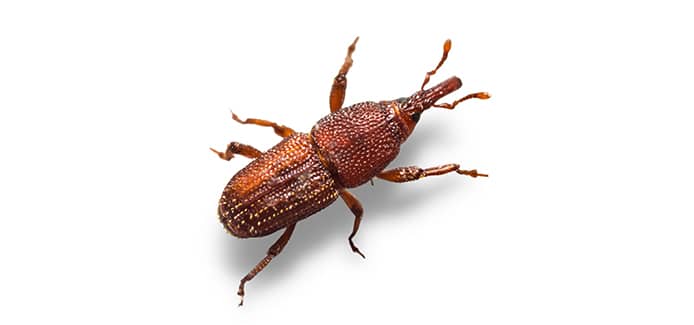 Are rice weevils dangerous?
Rice weevils are not dangerous to people, but they are highly destructive to crops. Rice weevils will invade and damage grains, seeds, and stored grain products. In fact, rice weevils are one of the most destructive grain pests in the United States and cause a lot of problems within the grain industry. Rice weevils can also find their way into homes where they can be very difficult to deal with, contaminating food sources.
Why do I have a rice weevil problem?
Adult rice weevils initially infest crops. The crops are harvested and brought to a food-processing facility, contaminating the facility with rice weevils. The infested products are then taken to a store where they are purchased and introduced into homes. It is also possible for your home to become infested with rice weevils after an adult flies into your home through an opening. They will chew their way into packages to lay their eggs in whole grains such as wheat, corn, barley, and rice.
How do I get rid of rice weevils?
For effective Tulsa pest control, contact Montgomery Exterminating. Our home pest control technicians and commercial exterminators have the knowledge and experience needed to implement a treatment plan that results in the complete elimination of rice weevils from your home. Reach out today to learn more about our rice weevil exterminating services.
Schedule Your Free Estimate
Complete the form below to schedule your no obligation inspection
Montgomery Exterminating Blog
Read the latest blog posts for more information about pests in Oklahoma.