Rodents Are Not Harmless.
They're Destructive And Dangerous.
In 2013, the University of South Florida completed a study on the effects rodents have on small businesses and private homes. The study found that as the human populous grows, so does the rodent population. There are a number of reasons, but the largest and most important take-aways are that humans have been providing unintentional shelter for rodents and endless amounts of food. Rats, mice, and other rodents will stop at nothing to get the food once they've had a taste. They've been known to ruin furniture, building materials, and even electrical wiring!
It's not realistic for us to just not create waste through garbage just as it's impossible for us to survive without our homes. This means that the rodent population will continue to explode unless we do something about it. If you're ready to take back control of your personal space, contact Montgomery Exterminating! Our rodent control services are available as a one-time service or ongoing service every month.
Eliminate Mice & Rat Activity In Your Home Or Business
Our team of rodent control professionals will stop at nothing to eliminate the infestation that you may not even know about before it's too late. And once the pesky rodents are gone, if you've chosen our monthly rodent control services, we'll make sure they don't come back.
Our Rodent Control Process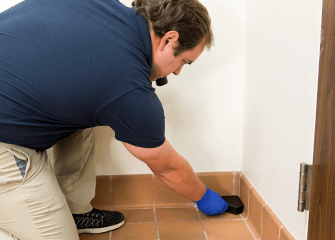 Rodent Inspection
We'll start with a thorough inspection of the property to determine if mice or rats are present, where rodents are entering and to identify conditions that are conducive to rodents.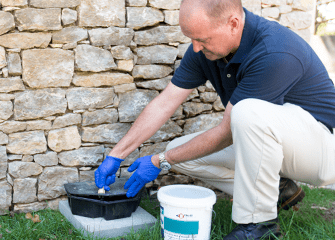 Treatment
Montgomery Exterminating will eliminate existing rodent activity inside the structure using tamper-resistant bait stations and other rodent control methods if necessary. If the problem is severe, we may also install rodent stations outside.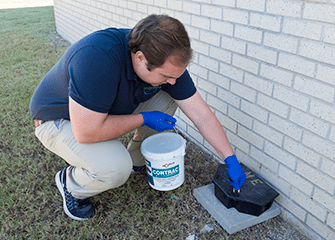 Follow Up Services
With monthly service to maintain rodent stations, you can relax knowing Montgomery Exterminating has the rodent threat under control!
Bundle Your Rodent Control And Save!
Did you know Montgomery Exterminating offers pest control programs that can include regular rodent prevention plans for homeowners? Learn more about these plans below!
When you sign up for ME's Bronze plan, our team will create a barrier around your home that doesn't let bugs in! This year-round home pest control and prevention plan is focused on the exterior so you don't even have to be home unless you want to or if you need help with a pest problem inside
Pests Covered:
American Cockroaches, Oriental Cockroaches, Crazy Ants, Argentine Ants, Carpenter Ants, Acrobat Ants, Pavement Ants, Brown Grass Spiders, Wolf Spiders, All Outdoor Spiders, Boxelder Bugs, Crickets, Centipedes, Millipedes, Earwigs, Clover Mites, Beetles, Hornets, Scorpions, and Mice (Indoors Only)
Includes:
Service Every Month
Exterior Service Every Visit
Interior Service Upon Request
Cobweb Removal (within reach)
Covers 20+ Pests
Guaranteed Protection
*Does not include install fee. Prices may increase for homes over 2,000 square feet.
Frequently Asked Questions
What types of rodents live in the Tulsa and Grand Lake regions?
While there are a number of rodents native to our region of Oklahoma, the species we most commonly see infesting homes and businesses include:
House mice

Norway rats

Roof rats

Gophers

Moles
Each pest brings its own potential problems to the table. While mice may look cute, they can still be responsible for severe damage across vulnerable areas of your home like wiring, cables, drywall, and more. Roof rats use their strong climbing ability to access your roof, leading to a big mess in the attic. Norway rats squeeze themselves into the smallest holes in your home's defense to get into basements, kitchens, and bathrooms.
Gophers and moles are different than other rodents in both the scope and the location of damage they create. While these species are rodents, the scope of their activity takes specialized services to mitigate. For more information about Gopher And Mole control in Tulsa reach out today!
What kind of damage can rodents cause?
Both mice and rats have front incisors that never stop growing, causing them to gnaw on practically anything they can find in order to wear them down to a manageable size. Because of this behavior, they are adept at both creating hazardous situations within homes they infest as well as exacerbating already-existing conditions.
Beyond the direct damage to your property, rodent activity brings inherent health hazards from the biological elements they leave behind. The buildup of rodent waste can create hazardous living conditions that can accentuate other issues like asthma. Rodent problems can also make way for other pests if they find the holes the rodents used to get inside.
Why should I trust the professionals for rodent control?
Rodents are among the most difficult pests homeowners have to deal with. They are cautious and difficult to lock down while simultaneously able to multiply quickly. They are tenacious, and catching a few rodents in traps won't stop the infestation if it's become established within your home. In order to eliminate rodents completely, you need a comprehensive solution from a certified pest control specialist to ensure complete removal of the infestation.
If you think you're dealing with rodents, give us a call today to schedule immediate service. Find out more about rodents and our pest control services in Tulsa.
Schedule Your Free Estimate
Complete the form below to schedule your no obligation inspection
Montgomery Exterminating Blog
Read the latest blog posts for more information about pests in Oklahoma.