Sand Springs, OK Pest Control
Protecting Sand Springs Homes & Businesses Since 1989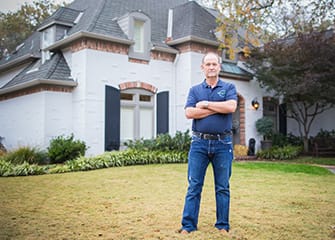 As is the case in other Oklahoma cities, pests are constantly trying to find their way into Sand Springs homes and businesses. Rodents and insects that live throughout Osage and Tulsa counties are always trying to take advantage of the food, water, and shelter sources we are unknowingly providing them. To keep pests out of your Sand Springs residential or commercial property, turn to Montgomery Exterminating. We are the Tulsa area's pest control experts and our entire team is committed to providing exceptional pest control and customer service. To learn why your family and neighbors are choosing Montgomery Exterminating to take care of their pest control needs, give us a call today!
Residential Pest Control In Sand Springs, OK
One of the biggest reasons Montgomery Exterminating is so good at solving our area's toughest pest problems is because we are owned and operated by Oklahoma natives. We have a deep understanding of the pests that are problematic in Sand Springs and throughout the rest of the state. Our technicians are familiar with the insects and rodents that find their way into Sand Springs homes. They know how to get them out and how to keep them out!

Montgomery Exterminating offers 3 home pest control plans that have been developed to specifically meet the needs of homes located in Oklahoma. Our Home Bronze, Home Silver, and Home Gold pest control plans offer the services needed to keep household pests out of your home and away from your family throughout the entire year. To learn more about working together to maintain a pest-free home, contact Montgomery Exterminating today.
Guide To Minimizing Mosquitoes In Sand Springs, OK
Mosquitoes are considered dangerous because of the many serious diseases they can spread to people and animals. Mosquitoes are also highly annoying. Mosquitoes are a common, but unwelcome backyard pest that should not be allowed to live in large numbers on any Sand Springs property. The best way to minimize mosquito numbers in Sand Springs is to partner with the mosquito control experts at Montgomery Exterminating.

With the help of our seasonal mosquito control treatments that are completed during mosquitos' most active period (May thru September), we can greatly reduce mosquito numbers and allow you to enjoy your backyard any time you wish. Our seasonal mosquito control treatments begin with an inspection to discover where mosquitoes are living and breeding on your property. Next, we perform an initial treatment that targets resting spots and breeding areas. Then we provide monthly follow-up visits to ensure effective mosquito control throughout their active season.

To learn more about our mosquito control treatments (which can be completed on their own or as part of our Outdoor Living Program) reach out to Montgomery Exterminating.
Commercial Pest Control In Sand Springs, OK
The professionals at Montgomery Exterminating want to help your Sand Springs business succeed by providing you with exceptional commercial pest control services. To protect your name, brand, and reputation, you need to stop pests from being in and around your commercial facility. We offer customized commercial pest control solutions to meet the unique needs of your specific business and industry. Our technicians are highly trained and dependable. They know how to provide business owners with the most effective and modern pest control solutions possible. To discover how we can work together and keep pests from damaging your business, call Montgomery Exterminating today.
Protect Your Sand Springs, OK Property From Termites
Listed below are some of the main reasons you need to protect your Sand Springs property from termites:
Termites are referred to as "silent destroyers" because of their ability to feed on a building's structural wood undetected for months or years.

Termites have the potential to find their way into any Oklahoma home, 35% of single-family homes in Tulsa have had a termite infestation.

Each year wood-destroying termites cost home and business owners more than 5 billion dollars in the United States.

Termite damage is not covered by most homeowners' insurance. Insurance companies view termite damage as something that could have been prevented.
To protect your home from termites, turn to Montgomery Exterminating and install the Sentricon® System with Always Active™ on your property. This environmentally friendly system utilizes bait stations to eliminate a current termite infestation and prevents future infestations without any digging, trenching, or injecting chemicals into the soil. For more information about our highly effective termite control process and/or the Sentricon® with Always Active™, call us today and speak with one of our friendly and knowledgeable professionals!
Schedule Your Free Estimate
Complete the form below to schedule your no obligation inspection
Montgomery Exterminating Blog
Read the latest blog posts for more information about pests in Oklahoma.