Sapulpa, OK Pest Control
Protecting Sapulpa Homes & Businesses Since 1989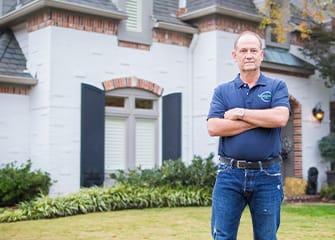 Sapulpa is a small city that rests in Creek and Tulsa counties. No matter where you live, pests will always be a problem. Here in Sapulpa, that truth is no different! Pests such as rodents, mosquitoes, and insects are a major problem that must be dealt with. Thankfully, Sapulpa is within Montgomery Exterminating's service area. Here at Montgomery, we are happy to assist you with any pest problems you're facing. Our friendly pest technicians will work with you to identify where pests are coming from and apply treatments according to our findings. If effective pest control is what you're looking for, look no further than Montgomery Exterminating.
Home Pest Control In Sapulpa, OK
As a homeowner, keeping your home and family safe is very important. Here at Montgomery Exterminating, family is important to us too. Our goal is to provide high-quality home pest control plans and treatments to keep your Sapulpa home and family protected from the damage, disease, and safety risks associated with pest infestations. We have developed three unique home pest control plans to fit every need and budget.
Home Bronze

Home Silver

Home Gold
Each of our residential pest control plans includes cobweb removal, monthly services, and coverage for 20+ common pests. Our Home Gold program is our most comprehensive home pest control plan with everything from termite control to seasonal mosquito reduction. Keep your Sapulpa property protected year-round with a little help from the professionals at Montgomery Exterminating.
Commercial Pest Control In Sapulpa, OK
No matter what industry you're in, pests have the potential to shut your business down temporarily or even for good. Pest infestations can lead to damaged equipment, the spread of disease, and the loss of customers. Additionally, some pests are capable of damaging your Sapulpa commercial property in ways that are costly to repair. As a business owner, it is crucial to invest in commercial pest control to keep your property pest-free all year long. Whether you own a shopping center, office building, restaurant, or medical facility, commercial pest control can stop pest problems before they arrive. If you're searching for a commercial pest control plan that you can trust, turn to Montgomery Exterminating. Our pest technicians are highly trained and licensed to identify pest threats and to create a plan to treat those pest threats accordingly. Reach out to us today for immediate assistance with all of your commercial pest problems.
Guide To Minimizing Mosquitoes In Sapulpa, OK
Warm weather is something many people enjoy. Some people like to host outdoor parties and others want to bask in the sunlight down by the pool. Either way, warm-weather fun is a positive experience. Unless, of course, you run into mosquito problems. Mosquitoes are warm-weather pests that can ruin outdoor events and disturb you when you spend time outside. But mosquitoes are not just nuisance pests, they're dangerous as well. Mosquitoes are responsible for spreading diseases such as dengue, malaria, West Nile virus, and many others. To avoid the annoyance and dangers of mosquitoes, implement these mosquito prevention tips around your Sapulpa property.
Clear sticks and other organic debris from your gutters.

Repair leaking faucets.

Dump out items that collect water, such as flower pots, kiddie pools, and cans.

Reduce sources of still or standing water.

Cut tree branches, weeds, and other shrubs away from your building.

Keep your lawn trimmed.

Contact professional mosquito control.
To avoid mosquito problems around your Sapulpa home or business property, turn to Montgomery Exterminating. We have what it takes to keep your property almost mosquito-free throughout the seasons where they are most active. Give us a call today to get started.
Do I Really Need Professional Rodent Control In Sapulpa, OK?
Some people think rodents are cute, benign creatures that neither help nor harm humans. However, this couldn't be further from the truth. Although some rodents might not appear to be much of a threat, rodents are capable of causing serious problems if they invade Sapulpa home or business buildings. Some of the problems rodents cause include:
Damaging property. Rodents are characterized as mammals with front incisors that never stop growing. Mice, rats, and squirrels will chew on almost anything to wear down their ever-growing front teeth. Rodents can chew on electrical wiring, pipes, furniture, clothes, and even structural beams. Some rodent infestations have even resulted in dangerous house fires after wiring was damaged.

Spreading diseases. One of the most alarming things about rodent infestations is the fact that rodents can spread bacteria, pathogens, and parasites into your Sapulpa property. Some of the diseases linked to rodent infestations include hantavirus, salmonella, and even rabies in rare cases.
The only way to ensure your Sapulpa home or business property is protected from rodent problems is to put a professional pest control plan in place. Montgomery Exterminating has the skill and equipment needed to remove pests from your property and to stop them from returning. If rodents are causing problems in your home or business, reach out to Montgomery Exterminating today.
Schedule Your Free Estimate
Complete the form below to schedule your no obligation inspection
Montgomery Exterminating Blog
Read the latest blog posts for more information about pests in Oklahoma.