Tulsa, OK Pest Control
Protecting Tulsa Homes & Businesses Since 1989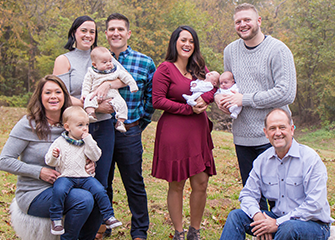 Montgomery Exterminating, located in Tulsa, Oklahoma, offers a full range of pest control services to Tulsa area home and business owners. Our family owned and operated business has been serving our community for over 25 years. We are experts in both residential and commercial pest control. At Montgomery Exterminating we offer pest protection against the most common pests with our year-round pest protection plans. However, we also specialize in targeting the most troublesome pests with unique services such as mosquito control, rodent control, termite control, flea and tick treatment, gopher and mole removal, and our outdoor living plan.
Home Pest Control in Tulsa, OK
Montgomery Exterminating offers three plan levels for year-round pest control for Tulsa homeowners. With each level of service - Bronze, Silver, or Gold - you get scheduled visits every month, coverage for over 20 common household pests, and guaranteed protection. Our service focuses on the outside of your home so we can keep pests out. We work in three zones, starting in Zone 1, closest to your house. In Zone 1 we knock down spider webs and look for obvious signs of pest intrusion before treating. Then we move to Zone 2, where we treat around landscaping, porches, and decks. Finally, we move to Zone 3 to treat along the outer perimeter of your property, along fence lines, woodpiles, sheds, and pools. This three-zone approach is effective in keeping pests off your property and away from your house. However, if at any time you have a problem with indoor pests, we can treat inside and help rid your Tulsa home of what's troubling you.
Tulsa Termite Control Featuring the Sentricon® System with Always Active™
Every year in the United States termites cause more damage than fires, earthquakes, and storms combined. Yet homeowners insurance doesn't cover damage from termites like it does these other disasters. At Montgomery Exterminating we partner with the number one brand in termite protection to provide superior termite control in Tulsa. The Sentricon® System with Always Active™ is an underground bait station system that eliminates colonies of termites and prevents them from getting into your structure. Having a termite protection plan in place for your Tulsa home can save you thousands of dollars and prevent stressful home repairs. Contact Montgomery Exterminating to learn more about Sentricon® with Always Active™ and how it can save your home.
Commercial Pest Control Services in Tulsa, Oklahoma
Commercial pest control is unique in that businesses and commercial facilities often have their reputation and, potentially, their ability to operate, on the line. At Montgomery Exterminating, we understand the challenges pest infestations can pose to Tulsa business owners. We are experts in providing pest exclusion and elimination services for shopping centers, country clubs, restaurants, office buildings, housing complexes, daycare centers and schools, hospitals and medical facilities, warehouses, and industrial facilities. When you contact us, we will work closely with you to identify your company's pest issues, reduce existing pest activity, and prevent future infestations from occurring. Trust your brand to Montgomery Exterminating, the commercial pest control experts in the Tulsa, Oklahoma, area.
Guide to Minimizing Mosquito Exposure in Tulsa, OK
Mosquitoes can disrupt your outdoor activities with their annoying bites. They drive you inside in search of relief and make you miss out on enjoyable events. Mosquitoes can also transmit viruses, such as the West Nile virus, that can be harmful to you and your family. Montgomery Exterminating has a solution for reducing the number of mosquitoes on your Tulsa, Oklahoma, property. Seasonal mosquito control is available during peak mosquito season from early spring to late fall. Initially, our technicians will inspect your property to find areas of harborage and reproduction. We will treat those areas to kill adult mosquitoes and stop eggs from hatching. Going forward, we will re-treat problem areas and target the perimeter of your property with monthly visits. In no time, you'll be back to enjoying entertaining and warm weather activities in your Tulsa backyard.
Tips to Avoid Rodent Problems in Tulsa, OK
Rodents tend to enter homes in search of food and shelter. If you want to keep rodents out of your Tulsa, Oklahoma home there are some steps you can take. You'll need to think like a rodent and get low to inspect your property for signs or holes, cracks, or other means of entry. You'll also want to look up and look for overhanging tree branches or other means for rodents to bridge their way onto your roof and into your home. Sealing up your home as much as possible will help keep rodents out. If you have been unsuccessful in keeping disease-carrying rodents out of your Tulsa home, contact us at Montgomery Exterminating. Our inspection, treatment, and follow up services will get your Tulsa home rodent free in no time.
Schedule Your Free Estimate
Complete the form below to schedule your no obligation inspection
Montgomery Exterminating Blog
Read the latest blog posts for more information about pests in Oklahoma.